If you are looking for the best shooting goggles, this post will guide you on the best tactical shooting goggles, we have researched and put together the collection of the best safety goggles for shooting.
The human eye is a sensitive liquid sack and any damage can leave you permanently handicapped. As scary as this might sound, the chances of such injuries happening is quite low, unless you are frequently engaging in dangerous activities such as shooting. Shooting goggles protect your eyes from ricochets, unburnt gunpowder and even lubricants and oils flying rearward. Most gun/ shooting ranges have a rule for eye protection.
There are many reasons you need eye protection when shooting. For example, your round may overload leading to a gun explosion. In this case, you will need something to keep your eyes safe. You may also experience a ricochet whereby a round strikes a surface and redirects in an uncontrolled direction instead of being absorbed, or a splatter, where your round strikes a surface and splits into multiple fragments that fly outward risking eye injury.
Top 10+ Best Shooting Goggles
A pair of shooting glasses will prevent injury in all these cases and even during blowback. But how do you choose good shooting goggles? That's why we are here. See below the best shooting goggles in the market that are widely used are likely to suit your needs.
1
Allen Company Over Shooting & Safety Glasses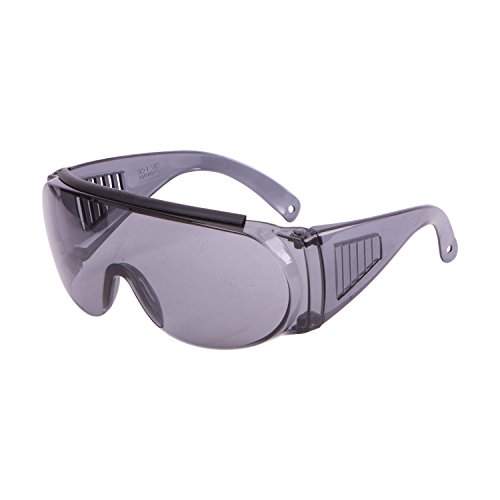 Allen's Over Shooting & Safety Glasses are designed to be used over most prescription glasses. They are also ideal for anyone looking for a little more coverage without interfering with their styles of shooting. The oversized glasses are specially shaped to avoid adding extra pressure on the side of your head when wearing two pairs of glasses. They have wrap around frames for extra protection and coverage, as well as a rubber guard on the top that ensures comfortable resting on your face.
The glasses are mirror smoked for bright lighting conditions and have a metallic coating on the lenses to provide 100% UV protection. They are ANSI Z87 impact resistance rated.
2
Bertoni Shooting Glasses with 4 Interchangeable Lenses and Carrying Case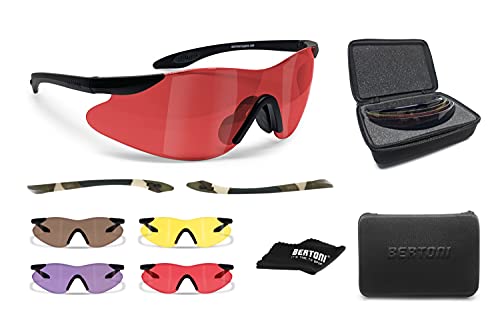 Bertoni Shooting Glasses feature a 2, 4mm anti-crash shatterproof polycarbonate lens and a rubber frame. The black, shiny glasses have an impact resistant and anti-fog coating. The lenses are decentered to avoid any optical distortion while providing 100% UV protection. This kit includes 4 interchangeable anti-fog lenses, 2 nose pieces; one for use with optical clip adapter and one for regular use, 1 removable optical clip RX adaptor for prescription, neoprene carrying case with Bertoni engraved logo and a microfiber cleaning soft cloth.
The wraparound frame design is suitable for all types of faces, narrow to large, protecting the eyes from wind and bad weather while enhancing peripheral vision.
3
Wiley X Saber Advanced Matte Black Frame with Yellow Lens Shield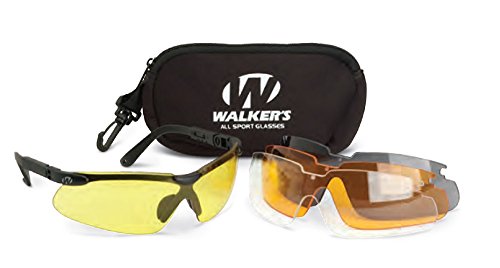 Wiley-X SABER Classic Series Sunglasses feature a lightweight design, flexible nose piece, and a foam insert on the changeable lens. They allow you to swap lenses providing exceptional protection and visibility in all situations. They are also adjustable and rubberized to keep the frames secure while competing in any sport. They feature a pliable felt brow bar that keeps the frame snug against the forehead, keeping away perspiration and debris from the eyes. The multi-coat mirrors utilize a z-oxide flash mirror coating to reduce glare and offer crystal clear optical clarity.
The Wiley X Saber meets the MIL-PRF-32432 ballistic safety standards for maximum protection. The sunglass lenses provide 100% UVA/UVB protection with distortion free clarity. They are ANSI-rated, ensuring crisper, clearer optics, enhanced color contrast and visual accuracy. The frame can be filled with a custom prescription lens.
4
ESS Eyewear Cross Series Crossbow 3LS Kit 740-0387, Black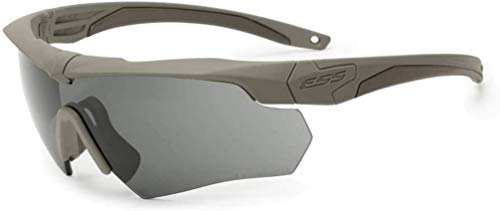 Eye Safety Systems ESS Sunglasses Crossbow 2X Kit Desert Tan w/Interchangeable Clear & Smoke LensThis USA-made ESS Eyewear features a plastic Tri-Tech Fit frame that achieves an amazing universal fit with max comfort and zero pressure points. The glasses use ClearZone FlowCoat technology that keeps the lenses from fogging in any situation. This is engineered to eliminate fog inside and prevent scratches outside. The lenses are also distortion-free giving you the most optically precise vision.
The Crossbow eyewear features interchangeable 2.4mm polycarbonate high-impact-lenses that provide 100% UVA/UVB protection. The Crossbow kit includes one crossbow frame with three interchangeable lenses: Clear, Smoke Grey and Hi-Def Yellow. It also has a hard storage case, microfiber pouch, Snap-On elastic retention strap, the ESS sticker and instruction booklet.
5
Magpul Terrain Sunglasses Tactical Ballistic Sports Eyewear Shooting Glasses for Men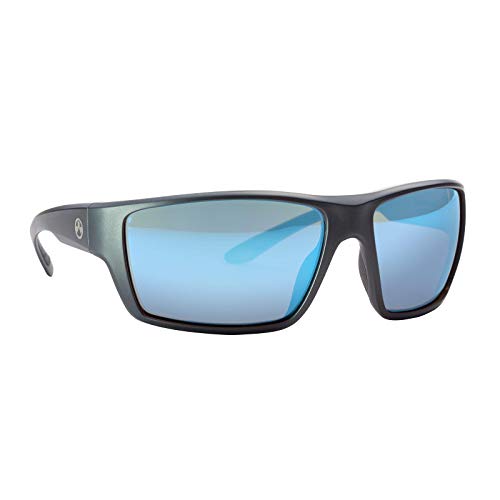 The Magpul Terrain sunglasses are constructed of TR90NZZ thermoplastic material. The frames are made of lightweight construction and ballistic protection, providing rugged strength and flexibility with maximum overall coverage. The lenses are oleophobic treated to provide liquid and other chemical protection, as well as added scratch resistance, while an anti-reflective coating on the inside of the lenses minimizes distracting reflections. The glasses are available with polarized and non-polarized lenses.
The Ballistic Rated Z87+ and MIL-PRF 32432 lenses and frames meet both high velocity impact protection and safety ratings. The padded low profile temples integrate smoothly under helmets, communication headsets and over the ear hearing protection.  The glasses also have coated stainless steel pins that provide simple but dependable hinge functionality. The rubber nose and temple pads are over molded to the frame for durability.
6
Oakley Men's OO9213 Ballistic M Frame 2.0 Shield Sunglasses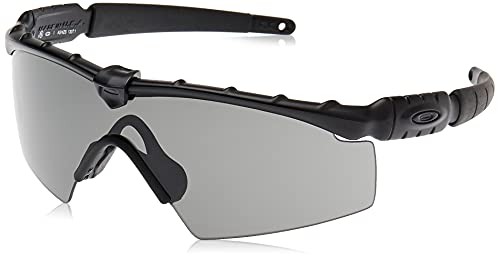 Oakley Men's OO9213 Ballistic sunglasses provide 100% UV protection filtering of all UVA, UVB, UVC and harmful blue light up to 400 millimeter wavelength. They are made of a lightweight Plutonite lens material that offers superior comfort, clarity & protection against impact and ultraviolet radiation. The patented high definition optics (HDO) provide superior optical clarity and razor-sharp vision at every angle while the O Matter stress-resistant frame is strong and flexible to provide all-day comfort and protection.
Oakley's injection molded thermoplastic O-Matter frame provides improved strength & flexibility over traditional acetate and is built to withstand shifting or deforming over time. This frame is ANSI Z871 stamped and meets or exceeds high mass and high velocity impact requirements per ANSI Z87.1-2003/2010. It Meets or exceeds ballistic fragmentation impact standards per MIL PRF-31013, Clause 3.5.1.1. The no slip Unobtanium nose pads offer a better grip when wet for improved fit and comfort.
The clear lens features 89% visible light transmittance while the persimmon lens features 69% visible light transmittance, both ideal for use in low light to no light conditions. The grey lens on the other hand features 15% visible light transmittance suitable for bright light and meets MCEPS neutrality and chromaticity requirement.
7
Smith Optics Elite Aegis Arc Eyeshield Field Kit, Gray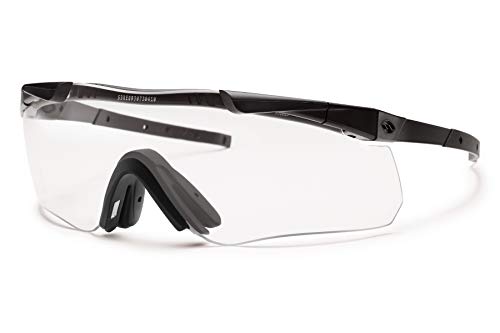 The Smith Optics Elite Aegis Arc Eyeshield provides excellent protection for people who are either deployed, training for a mission or shooting for sport. They feature tapered lens technology that helps correct distortion. They offer superior ballistic impact protection per US-MIL-PRF-31013 standard and uncompromising optics and coverage per ANSI Z87.1.
The set is EN 166 compliant and provides a good fit for hat size 71/4 or greater. It has a megol temples and a soft nose to hold the eyeshield comfortably in place.
8
Revision Military 4-0152-0001 Stingerhawk Safety Glasses, Black, Regular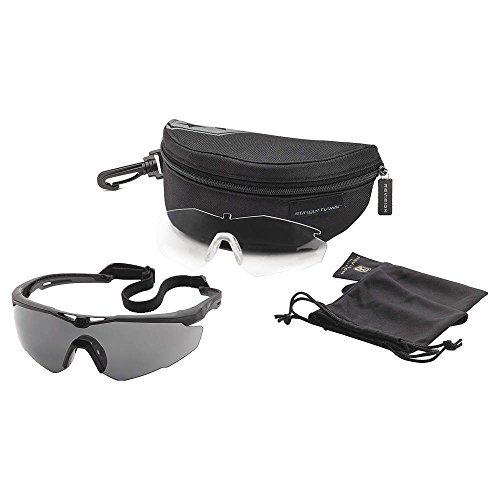 These Revision Military 4-0152-0001 Stingerhawk Safety Glasses are made in a distinctive, high-impact and stylish design, providing fragmentation protection in a low-profile, lightweight, modernized design with a tighter curvature. They are compatible with Revision's cutting-edge single and dual-band laser protective lenses and feature Ocumax anti-fog coating for crispy clear vision.
The lean, extendable arms ensure a comfortable, stable fit and steady, equipment compatibility ideal for use in military and tactical operations. The lenses are manufactured to precision to provide distortion-free vision. The set is built to exceed stringent U.S. And international Ballistic impact requirements.
9
Howard Leight by Honeywell Genesis Sharp-Shooter Shooting Glasses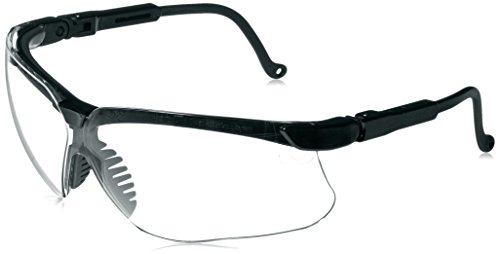 Howard Leight by Honeywell Genesis Sharp-Shooter Shooting Glassesis engineered for maximum eye comfort and protection. The glasses are made with Uv extreme anti-fog lens coating that combines with a ventilation channel to minimize fog and moisture. They have a 9-base wraparound uni-lens style giving them an uncompromised peripheral vision. The clear lens is suitable for shooting in most indoor and outdoor environments. They also have a soft, flexible brow guard plus adjustable temples and nose pieces for maximum comfort and customization.
These shooting glasses feature high-impact standards and offer 99.9% UV protection for maximum safety. They can be used at the range or as hunting glasses. The set meets ANSI Z87.1-2010 (High Impact) and is certified to the requirements of the CSA Z94.3 standards. It meets military V0 ballistic impact test requirements (7x higher than ANSI).
10
Maxee 2Pcs Safety Goggles, Shooting Glasses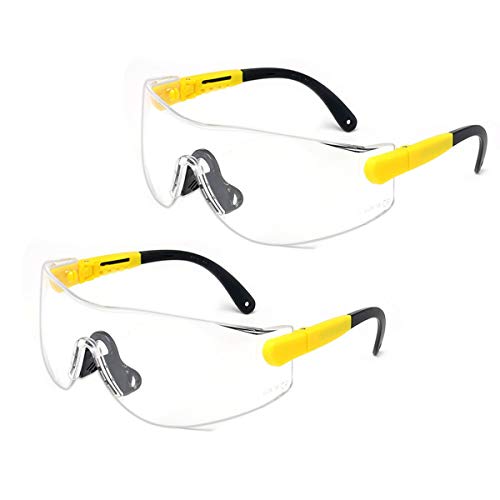 Maxee 2Pcs Safety Goggles, Shooting Glasses are made of high-impact reinforced polycarbonate lenses that help protect your eyes against chemical liquid splashes, droplets, air-born dust particles and industrial debris like wood chips and sparks. The design which features a ventilation channel between frame and lens, combined with a medical-grade anti fog coating gives you crystal clear vision all the time and helps to effectively block UV light.
Made of PVC, the adjustable nose piece included in these glasses makes them comfortable to wear. They feature an aerodynamic design and have ergonomic characters, with no pressure feeling. The temples of the glasses have preserved holes that can be worn with a string, making it more difficult to slip off. They are ideal for lab working, construction, shooting, garden working, DIY projects, woodworking, medical professionals.
11
XAegis Airsoft Goggles, Tactical Safety Goggles Anti Fog Military Glasses
XAegis Airsoft Goggles, Tactical Safety Goggles Anti Fog Military Eyewear with 3 Interchangable Lens for Paintball Riding Shooting Hunting Cycling – BlackThese XAegis Airsoft Goggles are made of strong PCU material for the frames and PC material for the lens. The goggles have 3 color lenses which are interchangeable including; yellow, smoke and clear. The lenses require no tools to change. The scratch-resistant polycarbonate lens with anti-fog coating provides 99% UVA/UVB protection, while the full seal wrap-around lens offers full side vision and maximum protection. The lens options make them great for any type of light in most circumstances and weather.
These goggles feature a soft and comfortable hypo-allergenic rubber portion that sits perfectly on your face, with a vented design to allow airflow. This kit comes with a carry bag with a spare lens and a protective sleeve, which protects your lens and the back of your head. An adjustable headband helps to keep your goggles stable and tight. Cloth sleeve
These goggles are perfect for a wide range including outdoor activities such as airsoft, paintball, riding, hunting, shooting, cycling, and more.
Conclusion
Whether the shooter or just an observer, safety is the number one priority for anyone in the shooting area. Eye protection especially is the main thing you should concentrate on as a gun enthusiast. Shooting goggles/glasses protect your eyes from tiny particles that are found in the air as a result of shooting. For example, the best goggles will protect you from blowback which may lead to a serious eye injury.