Burris Droptine 4.5 14×42 is a scope designed to fit a wide range of shooting needs. As you will quickly see in this Burris Droptine 4.5 14×42 review the specifications below, Burris Droptine 4.5-14x42mm is an ideal scope for game hunting, regular shooting, and varmint hunting.
If you want to buy this scope, this is a quick review that details the specifications, pros, cons, and common uses of Burris Droptine 4.5-14x42mm
Burris Droptine 4.5 14×42 Review

(Pros, Cons, Specs & Verdict)
Burris Droptine 4.5-14x42mm Specifications

Magnification: 4.5-14x
Power Variability:  Variable
Objective Diameter: 42 mm
Length/Weight/Tube Diameter: 9.7 in/13 oz/1 in
Field of View: 22 low – 7.5 high (ft. @ 100 yds.)
Eye Relief/Exit Pupil: 3.1 – 3.8 in.
Reticle: Ballistic Plex Reticle
Adjustment Info: 1/4 MOA
Waterproof/Shockproof: Yes/Yes
Parallax Setting: Factory-set 100 yards
Illuminated Reticle: No
Most Outstanding Feature of Burris Droptine 4.5-14x42mm Scope
The unique feature of Burris Droptine 4.5-14x42mm is its Adjustable Parallax Focus and its ability to improve your shooting accuracy for a budget scope. You can also improve your shooting accuracy using one of the best shot timers I previously shared in this review – the top 10 best shot timers.
If that's something you are looking for in a rifle scope. This is a good choice and will get the job done.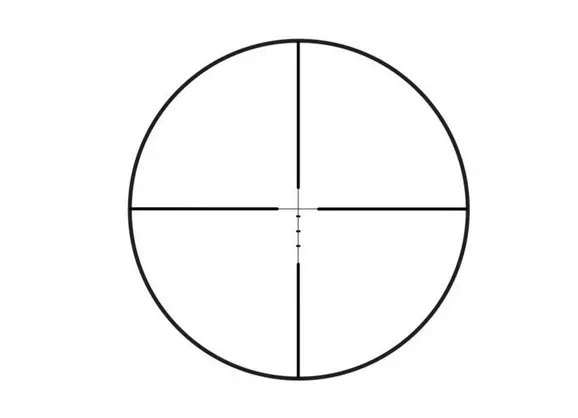 Best Use Cases
Burris Droptine 4.5-14x42mm scope is ideal for use in varmint Hunting, big game hunting, target shooting.
If you are looking for a scope that has adjustable parallax focus this can be a good choice to get you started as well as other brands with similar qualities as shared on the similar scopes list in the next section below.
Similar Scopes to Burris Droptine 4.5-14x42mm
The following scopes share similar features with Burris Droptine 4.5-14x42mm and can be compared and used as alternatives.
Although each brand has its unique characteristics, you can opt to buy one over the other based on your history with such scopes or unique needs.
Largely all these scopes will perform in the same way with little exceptions to specific brands features.
Leupold VX-3i 4.5-14x40mm Riflescope
Nikon Buckmaster 4.5-14×40 Riflescope
Burris Droptine 4.5 14×42 Review

Detailed
Burris Droptine 4.5-14x42mm
is the largest scope in the Droptine family, the Burris Droptine 4. 5-14×42 mm scope that is designed for users who want to take to the next level their accurate shooting distance without buying an expensive scope.
Budget High-Quality Scope
This is a budget scope that fits a wide range of needs and greatly improves your shooting accuracy.
Adjustable Parallax Focus
This Droptine model scope is the only of its kind with adjustable parallax focus which is the unique feature of Burris Droptine 4.5-14x42mm. This allows you to shoot accurately targets that are further.
High-Grade Optical Glass (Clarity, Durability & Excellent Brightness)
It is designed with high-grade optical glass that ideally provides superb brightness, clarity, and makes this one of the most durable budget range rifle scopes.
Weather Resistant Qualities
It's designed as a waterproof scope just like most standard and high-quality scopes. It is Nitrogen-filled and this prevents internal fogging making is usable in foggy environments as well as cold and rainy seasons.
Other Noteworthy Qualities (Cover, Eyepiece Design and Magnification)
This is a durable scope that is designed with an integrated-eyepiece design has a no-slip grip for easy adjustment in the field and is covered by Burris Forever. It comes with a ballistic Plex Reticle and a 1-inch main tube and cleverly designed finger adjustable- low-profile adjustment turrets. It also has double internal springs.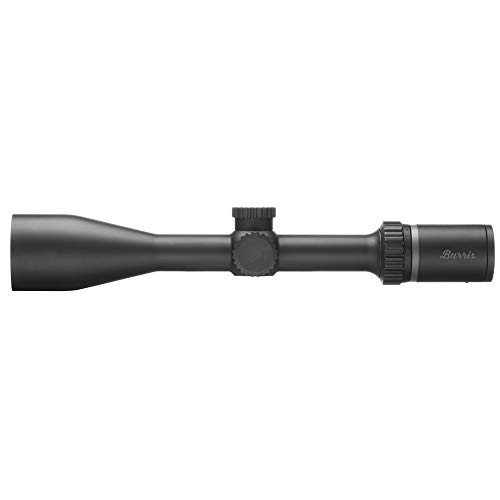 Pros
The affordable accurate scope that improves your shooting accuracy
Wide range of uses that include range shooting, hunting, and recreational shooting.
Adjustable Parallax Focus greatly improves your shooting and is a unique feature specifically designed in this scope.
Can be used in a wide range of environmental conditions and does well in cold and rainy seasons.
An average good rating across all the other online sites and reviews gives the buyer some assurance that the scope is a good budget scope for a better shooting experience.
Cons
Mounting it can be hectic and the ease of mounting it varies from one rifle to another.
Some users have reported issues with zeroing
Burris Droptine 4.5-14x42mm Rifle Scope Q&A
Why Consider Buying this Scope?
If you like Burris scopes and you are looking for a budget scope that is less than 200 bucks for accurate shooting, Burris Droptine 4.5-14x42mm should be on top of your list.
Our Verdict On Burris Droptine 4.5-14x42mm
For users who are familiar with Burris scopes, Burris Droptine 4.5-14x42mm is a good bargain for a scope with Adjustable Parallax Focus and can be used in a variety of conditions.  We recommend this scope for beginners looking for a good budget scope that is below 200 bucks and has better accuracy for distant targets.
Its unique magnification and lens combination 4.5-14x 42mm can be another consideration for users looking for that specific range of magnification and lens diameter. Overall this is a good scope for that price and we recommend it to our readers.
Video

Burris Droptine 4.5 14×42 Review



The following are some of the video reviews we have watched and would like to share with you to help you make an informed choice if you decide to go ahead and buy this scope.