The Vortex Golden Scope is a powerful scope designed for F Class and Bench Rest competition shooters.
It is ideal for long-range shooting applications.
If you are looking for a perfect long-range Vortex scope, this Vortex Golden Eagle Scope review will highlight all the features you need to know about this Vortex scope and why you should consider it as a great choice for the best long range scope.
The scope provides a large objective diameter that absorbs a huge amount of light, beamed through coated intricately designed lenses.
This offers a crisp vision at every magnification level.
Even at the highest magnification level, there is no tearing or fuzziness.
In this post, we'll discuss the scope specifications, best use cases, and the features offered by the Vortex Golden Eagle scope.
Why is Vortex Golden Eagle Scope Popular?
52 mm objective lens
15-60x magnification
Optically indexed lenses
Plasma tech
Side focus
Extra fine resolution turret
Vortex Golden Eagle Scope Review (Summary, Best Use, & Best Feature)
Scopes Specifications

Magnification: 2-7x
Power Variability:  Variable
Objective Diameter: 32 mm
Length/Weight/Tube Diameter: 9.7 in/13 oz/1 in
Field of View: 23-8 feet/100 yards
Eye Relief/Exit Pupil: 9.2-12 in/16-4.6 mm
Reticle: Ballistic Plex
Adjustment Info: 1/4 MOA
Optics Coatings: Multi-coated
Finish: Matte black
Waterproof/Shockproof: Yes/Yes
Parallax Setting: Factory-set 100 yards
Airgun Rated: Yes
Illuminated Reticle: No
Mounting Rings Included: No
Best Feature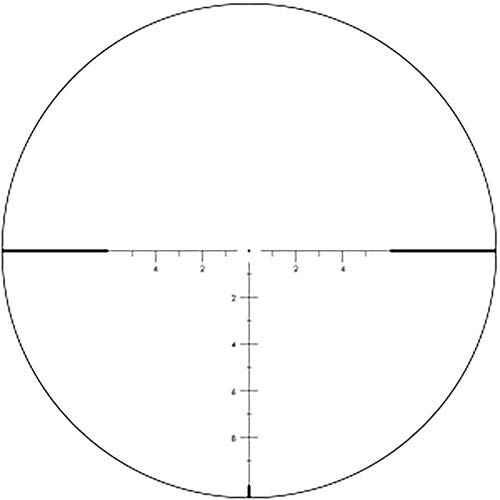 The exceptional feature of the Vortex Golden Eagle rifle scope is the utter clarity of the scope that extends throughout all the magnification levels. The magnification starts from 15x to 60x with a 52mm objective lens.
High density, apochromatic lens elements are index-matched to generate sharp, high definition images.
It also includes an XR anti-reflective coating to deliver maximum brightness at the highest magnification.
It is light and the cost is reasonable for such a powerful scope.
Best Use Cases
The Vortex Golden Eagle scope is ideal for use in varmint hunting, big game hunting, and long-range target shooting.
If you are looking for a scope that provides outstanding performance in any light conditions, this can is a good choice.
The scope can also be used in any weather, as it is dust-proof, waterproof, shockproof, fog-proof, and sun-proof.
Vortex Golden Eagle Scope Rifle Scope Detailed Review
The Vortex Golden Eagle includes turrets that are clearly marked, and easy to turn even with competition gloves. The turrets also provide you with a high level of precision, thanks to their ultra-fine resolution option, which lets the turret clicks adjust at rates as low as 0.125 MOA.
Weather and circumstances will never be an issue, as it is dust-proof, waterproof, shockproof, fog-proof, and sun-proof.
Vortex Golden Eagle Scope Rifle Scope is designed to be very durable. It is made of anodized aluminum that can withstand recoil and impact.
It is very easy to mount this scope and it is compatible with many long-range rifles.
Let's look at some of the other features offered by this scope.
All Features 
Vortex Golden Eagle Scope Rifle Scope has an APO system that corrects the color across the entire visual spectrum.
The lenses are optically indexed to ensure that you have a crisp vision.
It includes HD lens elements.
All air to glass surfaces is coated with anti-reflective coatings.
Vortex Golden Eagle Scope Rifle Scope includes plasma tech coating to provide you with unparalleled coating durability and performance.
It is designed to withstand scratches and protect the lenses from oil and dirt.
Vortex Golden Eagle Scope Rifle Scope includes extra-fine resolution turrets.
The O-ring seals prevent moisture, dust, and debris from penetrating.
The hard anodized finish provides a low glare matte surface that helps to camouflage your shooting position
Vortex Golden Eagle Scope Rifle Scope is scratch-resistant.
It includes a lifetime warranty.
Our Verdict 
The Vortex Golden Eagle scope is designed for people who are entering shooting competitions. However, if you need immense clarity at shots taken from a distance greater than 100 yards, we recommend this scope.
It is important to note that law enforcement officers have taken to using this scope for high-stress situations, like animal control situations where somebody is being threatened and the animal has to be neutralized. This is because the scope provides a crisp vision that ensures the shooter does not miss the shot.
Video Review
The following are some of the video reviews we have watched and would like to share with you to help you make an informed choice if you decide to go ahead and buy this scope.