This is a comprehensive Bushnell 1 4×24 Review that covers the pros, cons of Bushnell AR Optics, 1-4×24 Drop Zone Optics scope.
Bushnell ar 223 1 4×24 Drop Zone Optics by Bushnell is among the best in its line.
It is made with a strong, durable, and shockproof construction, built to withstand bumps, bangs, drops, and the rough-and-tumble environment of the field.
It has fully multicoated optics with multiple anti-reflective coating layers on all air-to-glass surfaces to offer bright, high-contrast images.
The multicoated lenses also have a rain guard to protect them from wet conditions.
This ensures that you will enjoy clear, sharp images in any weather condition.
Bushnell 1 4×24 Review
This Bushnell AR Optics Riflescope also offers reliability with quick magnification changes. In addition, it features a throw-down power change lever that can be set to two different heights, making it customizable to suit the different rifles you mount it on.
The Bushnell 1-4×24 AR Optics riflescope has a variable magnification power with a 1-4x magnification range perfect for short- to mid-range shooting. It also comes with an Illuminated Ballistic Drop Compensated reticle calibrated for 223 Remington/5.56 NATO, allowing you to hit targets out to 600 yards.
In addition, the six-setting adjustable illumination for the reticle gives the shooter the perfect amount of brightness in any condition, day or night.
Features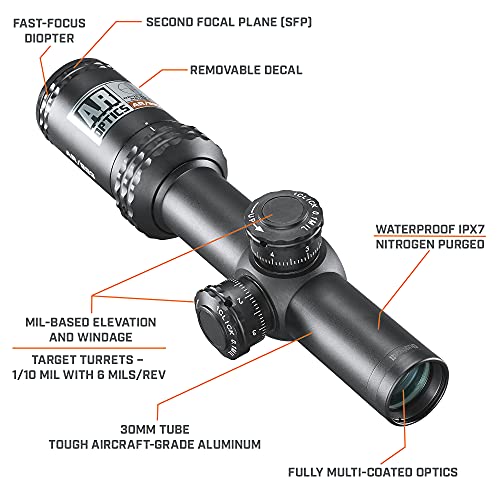 Bushnell AR 1-4×24 Drop Zone Optics is made in a design that delivers exceptional clarity and durability. To ensure that you enjoy the highest level of brightness and clear sharp images, the riflescope has multiple layers of anti-reflective coating on all air-to-glass surfaces that prevent glare and ensure maximum light transmission.
It is designed with strong, durable construction for reliable use in rugged conditions. The materials used are waterproof and fog proof.
The riflescope has a shockproof construction – built to withstand bumps, bangs, drops, and the rough-and-tumble environment of the field.
The fully multicoated lenses also ensure crisp images regardless of the lighting condition.
The riflescope features a Throw Down PCL power change lever that you can set to two different heights, making it easy to customize to suit the rifles you mount it on.
It has the Bushnell Lifetime Ironclad warranty supporting it. This is a full lifetime warranty that covers the lifetime of this riflescope. Additionally, it requires no registration and is fully transferrable.
The lenses are designed with a rain guard that protects them from getting wet and blurry when used in rainy conditions
Pros
It is lightweight with a weight of just12 Pounds
The riflescope comes with lens covers for lens protection against scratches and other damage during storage
Cons
The riflescope does not come with rings or mount
As you increase the magnification, it becomes a bit more difficult to shoot with both eyes open
Conclusion
Bushnell 1-4×24 Drop Zone Optics is a riflescope made to provide the best performance you can ask for. With strong, durable construction, you are assured of a long time of quality performance in any weather.
The riflescope is made with high-quality lenses that provide clear, bright images for excellent performance. The lenses are also coated with multiple layers of coating for bright images through glare reduction.
It is lightweight, easy to handle, and personalized, with different magnification settings for reliable performance in different conditions.