This is a comprehensive Athlon Midas Tac 6 24×50review that covers the pros, cons of Athlon Midas Tac 6 24×50. In the previous post, we also shared with you the Athlon Argos BTR 8 34×56 review which is another great scope from Athlon you may consider for medium to long range. You may also want to check out these best long range scopes.

Athlon's brand has grown over the years to become one of the very best in the optics industry today.
The Athlon Midas TAC 6-24×50 is one of their signature models, and it comes loaded with high-quality features to suit a myriad of applications.
Athlon Midas Tac 6 24×50 Review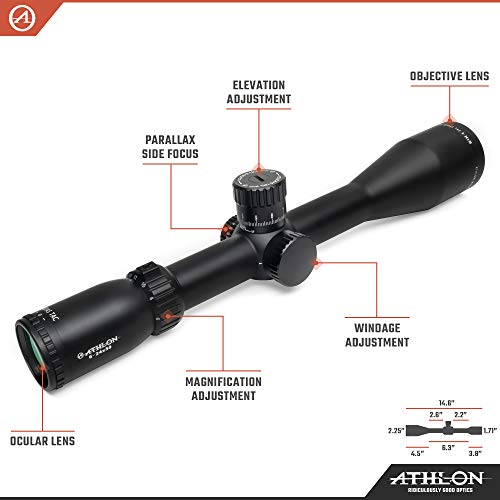 The 6-24×50 riflescope's design features HD Glass that provides you with improved light transmission for brighter and sharper images in all conditions.
It also has fully multi-coated lenses that improve target appearance at short, medium, and long distances.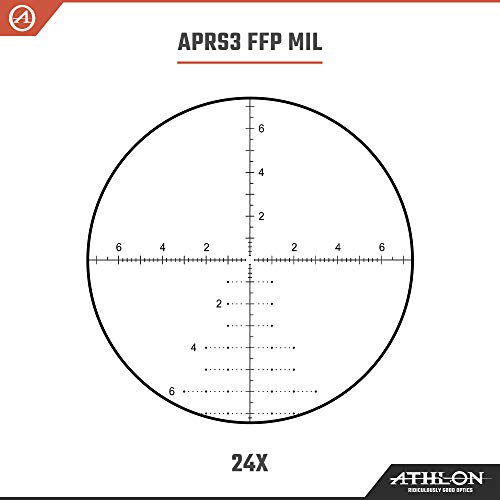 In addition, the riflescope has a  hard precision zero stop that allows a repeatable return to zero position and a capped Windage Turret that prevents accidental adjustments.
This Midas riflescope also comes with XPL Coating to protect exterior lenses from dirt, oil, and scratches.
The Midas has an APLR4 FFP MOA reticle. This reticle style is a blend of precision marksman, and a long-range hunter that comes in an open center design eliminates target obstruction by utilizing a .2 MOA diameter dot.
The 1 MOA hashmark increments provide fast holdovers up to 40 MOA, compensating for wind and elevation.
Features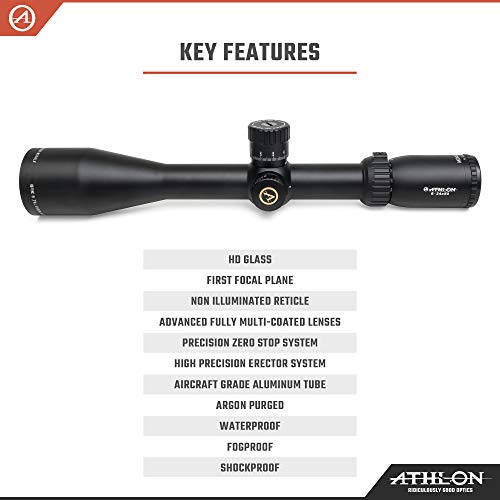 Athlon Midas TAC 6-24×50 is a high-quality riflescope offering the features any outdoorsman would be yearning to get.  It comes housed in a 30mm aircraft-grade aluminum tube that is strong and shock-proof, hence can withstand all the tough, rugged use in the field.
The riflescope also has other essential features, including;
An HD glass that increases light transmission for brighter, sharper images
It also has advanced fully multi-coated optics that significantly reduce the amount of reflected light to provide a brighter image compared to the standard single coated lenses
Athlon Midas Tac 6 24×50 has a true hard Zero Stop that allows you to return to zero position and dial back it with a sharp, precise stop
It has a capped Windage Turret to prevent accidental adjustments (10MIL/25MOA Travel-Per-Rotation Turrets)
It features an add-in first focal plane and a Ranging Reticle
Athlon Midas Tac 6 24×50 provides an 8-4.6 ft field of view at 100yds
Pros
It is lightweight for easy maneuverability- 1.64 pounds
It is weatherproof and withstands fluctuations in temperature
Athlon Midas Tac 6 24×50 is affordable and supported by a lifetime warranty
Cons
The reticle has elevation hash marks. It, however, lacks windage dot or hash marks running down for windage holdovers
Conclusion
The Athlon brand has done an excellent job with this riflescope. It has well-incorporated features providing the best experience for anyone in the field.
The high-grade construction, for example, ensures that you can enjoy a lifetime of reliable performance.
It is nitrogen-filled to prevent any fog from forming on the interior lenses. This ensures that the images are clear and bright even with rapid temperature changes.
In addition, it has complete sealing for waterproofing, preventing any moisture from getting into the scope and making it reliable for use in all conditions.
You will also not need to worry about dropping it as it is shock-proof. In addition, it has a robust aluminum housing that withstands all the ruggedness in the field without compromising image quality.