This is a comprehensive Athlon Argos BTR 8 34×56 review that covers the pros, cons of Athlon Argos BTR 8 34×56.
If you are looking for your first riflescope or are just in need of an upgrade, the Argos BTR 8-34 x 56 is a good choice for you. Like the Athlon Optics, Argos BTR Riflescope, 6-24 x 50, this riflescope is also made with features typically only found on high-end scopes.
Athlon Argos BTR 8 34×56 Review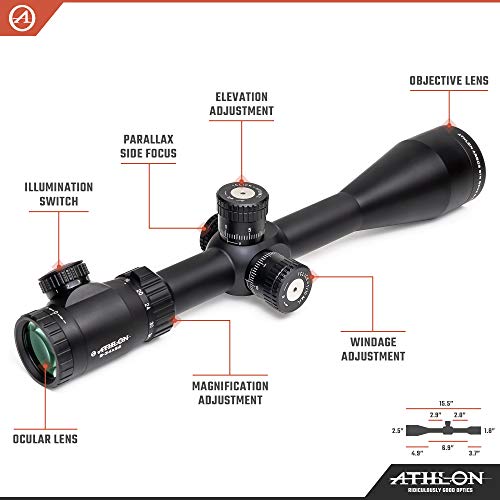 The riflescope has a 4x magnification making it quite versatile in multiple shooting disciplines.
Furthermore, it is made with a strong, durable material whereby the aircraft-grade aluminum tube helps to protect the optics in all harsh environments.
In addition, this BTR riflescope comes with fully multicoated optics that provide a crystal clear, bright image even in low-light conditions. These optics ensure maximum light transmission with reduced glare and reflections.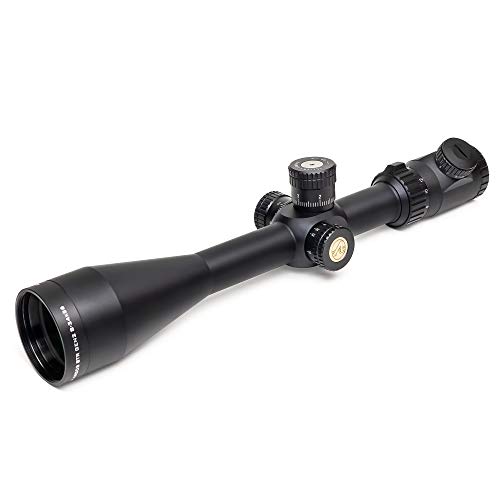 The Argos BTR also has the Athlon exclusive XPL coating that helps protect the lenses from dirt, grease, and harsh weather conditions.
The riflescope comes with an ATMR FFP IR MOA reticle with a large illuminated center, and 2 moa incremental hash marks to help you quickly lock in your target and set holdover positions.
The illuminated portion has a 2 center cross with an illuminated vertical cross line extending to 40 MOA up to 90 MOA on a black line with 10 MOA incremental markings. The illuminated horizontal cross line extends to 30 MOA in each direction.
Features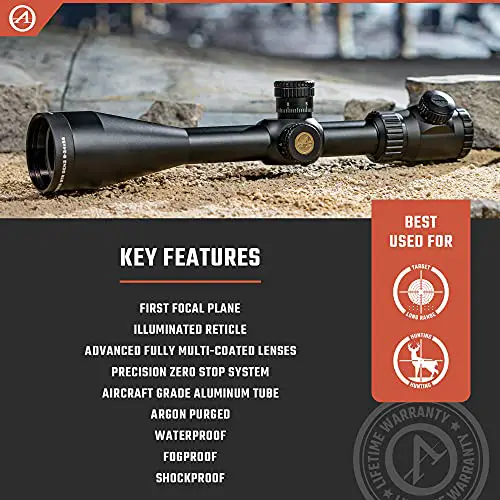 The Athlon Argos BTR 8 34×56 features a 6061t6 aircraft-grade aluminum tube that provides exceptional strength and superior mechanical integrity for rugged performance
This Athlon riflescope has a first focal plane reticle that stays valid at all power settings. This lets you fully utilize the specially designed reticle that reduces or increase in size along with your target as you zoom in or out
It has advanced fully multicoated lenses to provide better light transmission for optimum brightness and true color across the entire light spectrum
It also has XPL Coating to provide extra protection on the exterior lenses from dirt, oil, and scratches
It has reticle etched on the glass to provide excellent backing support for complex reticle design. It also ensures excellent durability and better shock resistance during recoil
It has an illuminated reticle that provides excellent low light visibility and accurate elevation holdovers up to 40 MOA with 2 MOA markings incremental
The riflescope is argon gas purged for better waterproofing and thermal stability
Pros
Athlon Argos BTR 8 34×56 riflescope is made of durable materials for a lifetime of performance
It is unisex for convenient use by both male and female adults alike
Reasonably priced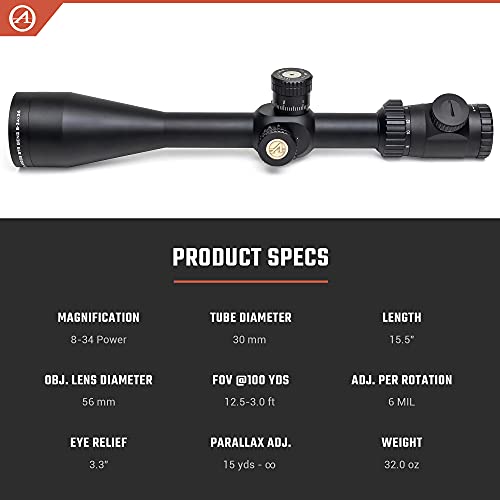 Cons
Athlon Argos BTR 8 34×56 lacks a zero stop function other than the included plastic washers
Conclusion
The Athlon Argos 8-34 x 56 Riflescope is designed to provide the best shooting tool in any hunting situation. The fully multi-coated lenses help by effectively reducing reflected light and increasing light transmission. This results in much brighter images compared to the normal single-coated lenses.
In addition, the riflescope is able to withstand wet conditions and rapid temperature changes thanks to the argon purging, which is done using big-size inertia gas.