This is a comprehensive Athlon Cronus 4.5 29×56 Review that covers the pros, cons of Athlon Cronus 4.5 29×56.
The Cronus 4.5-29×56 riflescope is the perfect go-to if you want to engage in precision long-range shooting and tactical applications or extreme long-range hunting adventures. This UHD scope comes loaded with features that will help you to achieve your most anticipated performance.
Athlon Cronus 4.5 29×56 Review
The first focal Plane scope features ED glass and advanced fully multi-coated lenses that significantly reduce chromatic aberration and reflection and increase light transmission for brighter images than the regular single-coated lenses.
It also has XPL Coating at helps to protect the exterior lenses from dirt, oil, and scratches. The 4.5-29×56  scope has been argon purged to prevent moisture from forming inside the scope and causing blurry images due to random temperature changes.
Athlon Cronus BTR 4.5 29×56 also has a true zero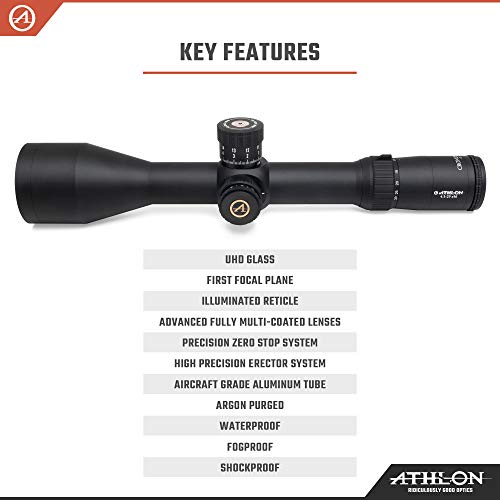 stop and an illuminated reticle etched on the glass for excellent backing support for a complex reticle design. The glass etching also offers exceptional durability and much higher shock resistance to recoil.
Features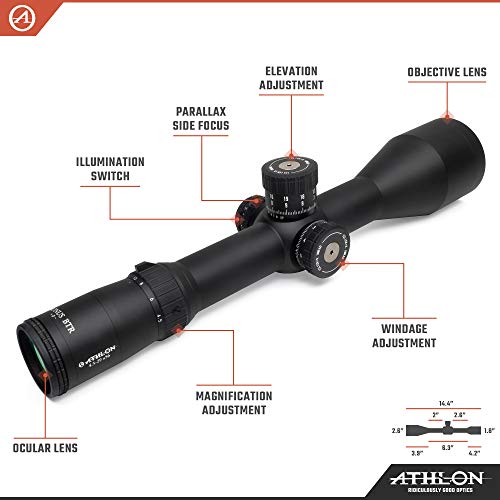 Athlon Cronus BTR 4.5 29×56 features an APRS FFP IR MIL reticle designed for precision rifle series competition and any other long-range shooting applications with accurate ranging capability. This feature helps you quickly determine distance, holdover positions, windage correction and allows you to act on a moving target promptly.
It has a unique design of fine .2 mil hash mark increments from center to 6 mils to both left and right, helping the shooter set a quick windage holdover position after dialing in elevation on their target. In addition, the floating 0.4 mil span center cross draws a shooter's vision to the target, enabling them to engage a target quickly.
Athlon Cronus BTR 4.5 29×56has an extra-low dispersion glass that significantly reduces chromatic aberration, giving you an extremely bright and sharp image with true color reproduction
Athlon Cronus BTR 4.5 29×56 lenses are fully multi-coated to effectively reduce glare caused by reflected light, as well as increase light transmission for a brighter image than regular single coated lenses
It also features XPL coating that gives you extra protection on the exterior lenses from dirt, oil, and scratches
The included precision zero stop system allows you to return to your zero position and dial back to it with a sharp and precise stop right at your zero point
The scope has an illuminated reticle that provides greater visibility during dusk and dawn and other low ambient light conditions
It has a large 44mm objective lens
Pros
Cons
Athlon Cronus BTR 4.5 29×56 comes with n lens caps or covers
Conclusion
Athlon Cronus BTR 4.5 29×56 is designed as lightweight slightly below a kilogram (1.18 pounds), the UHD 4.5-29×56 riflescope offers a long time of reliable performance with reliability to fit in numerous uses. In addition, the scope's hard 6062 aluminum material gives it a rugged feel that easily fits into harsh shooting environments.
For anyone interested in plinking, target shooting, hunting, or any form of outdoor activity, this is the riflescope for you. The tube is easy to hold and can easily be mounted for easy operation. You will be able to zoom in on your target up to 6 times, while still enjoying the clear, sharp, and bright pictures.
Athlon Cronus BTR 4.5 29×56 lenses ensure that the image is not distorted even in wet conditions. You also will not need to worry about accidental drops as the scope is housed in a strong shockproof body for longtime durability.