Are you on the lookout for the best QD sling mount? You've arrived at the right place. We understand how difficult it may be to make the best decision in the face of so many options on the market.
Slings are a vital rifle accessory, and you'll need a sling mount to utilize one with your rifle. Choose a sling mount carefully to keep your slings intact and your rifle from wobbling and swinging excessively.
We'll discuss the importance of a swivel mount and the various types available. You'll also learn about some important features to look for in a swivel mount before purchasing. We've also analyzed some of the best one-point and two-point sling mounts on the market to assist you in making your purchase.
5 Best QD Sling Mounts
As the name implies, a sling mount is a location for connecting the sling to the rifle. Sling mounts exist in various styles to help you improve the comfort and appearance of your rifle. You can attach your slings to a sling mount in various ways.
A sling mount allows you to attach your slings and keeps your rifle stable while moving. A good sling mount will last you a long time and allow you to rapidly modify your stance or switch from a one-point to a two-point sling or vice versa.
Now that we've covered the fundamentals, let's look at some of the top QD sling mounts.
1
Magpul RSA Rail Sling Attachment
The Magpul RSA rail sling is made from steel. It adds a layer of durability with a coat of magnesium phosphate, so it won't get scratched or damaged when you slide on a sling for your rifle.
It will readily attach to the lower receiver without any additional complications because it may be fitted on the front end of your rifle.
Magpul is known for producing high-quality, long-lasting products, and the Magpul RSA is another example of this. Any MIL-STD 1913 Picatinny or STANAG 4694 handguard can be used with the RSA sling mount.
The mount can be mounted on the right or left side of the rail and the top and bottom and is compatible with MS2 clip-on slings.
The loop is oriented to avoid catching on to other items and bouncing while you're moving. The mount is made of premium-quality steel that can endure up to 300 pounds of pressure. To avoid any unexpected catastrophes, secure the mount to the rail with the screw on the top end.
Hunters will make good use of this mount, especially for individuals looking for a sling that will allow them to carry their gear for a long time when hiking deep into the woods.
Nobody wants to carry a gun in their hands all day. If you're one of these people, a sling adaptor like this is something you'll need right now.
Features
Made of premium-quality steel
Endures up to 300 pounds of pressure
It weighs only 1.3 ounces
2
Bravo Company Keymod Quick Detachable Sling Mount
The shape of the Bravo Company Keymod Quick Detachable sling is substantially flatter than other sling mounts. As a result, it won't be as bulky or protrude as some slings. It's so low-profile that it could be mistaken for a sling.
It's a light and robust piece of gear that will be easier to install and use with most rifles and the slings linked to the adapter.
Bravo Company has created an incredible low-profile, quick-detachable sling mount for keymod handguards. The mount has an all-steel streamlined design to reduce snagging and promote movement.
To allow the swivel stud to be set as deep as feasible, the bearing cups have been cut towards the bottom edge of the mount.
The mount may be tightened over the keymod handguard using two in-built screws to create a more compact and secure arrangement.
For installation, the mount requires three keymod holes and a Torx wrench. The mount limits the swivel's travel to only eight positions.
It has a modest profile and stays put once installed. It accommodates conventional QD sling swivels with a push button.
This might be the sling to go with if you want something that will fit in with your rifle the moment you install it.
Features
All-steel streamlined design
Low-Profile for increased mobility and decreased snag factor
Non-rotational locking interface
3
Midwest Industries AR-15 End Plate Sling Adapter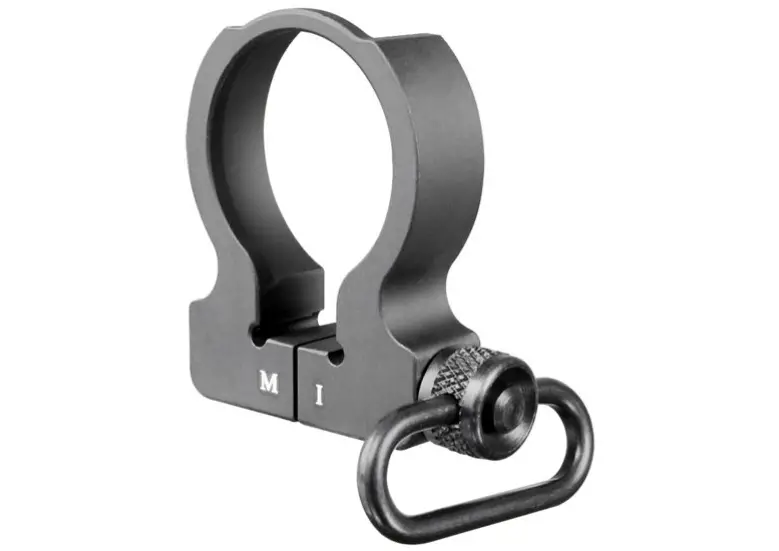 The Midwest sling is a ring-shaped device that can be quickly put on your rifle. After it's finished, you may use it to attach practically any sling you have.
This can be what you're looking for if you plan on hunting or target shooting and want a robust sling swivel that will stay sturdy on your rifle for a long time.
When you're looking for a site to set up shop for the day, a nice pair of binoculars can come in handy. You can't do that unless you're also carrying your rifle.
The rifle's end plate sling adapter from Midwest Industries is made of hard-coat anodized 6061 aluminum, making it lightweight and robust. The receiver end plate of adjustable M4 type buttstocks can easily be fitted to the adaptor.
The adapter is versatile, which means it can be used either right-handed or left-handed.
A QD push-button swivel stud compatible with slings up to 14 inches in width is also included.
It's suitable for one-point, two-point, and three-point slings. It's ideal for use in hunting, self-defense, and tactical situations.
This will most likely be utilized by hunters that spend the entire day in the woods. They'll need a sling to carry their guns on their shoulders if they walk around a lot. That, of course, necessitates a long-lasting sling swivel that can handle the job. This could be all you need if you require a simple sling swivel for your rifle.
Features
Ring-shaped
Made of hard-coat anodized 6061 aluminum
Ambidextrous design
4
Daniel Defense M-16 EZ Carbine Sling Mount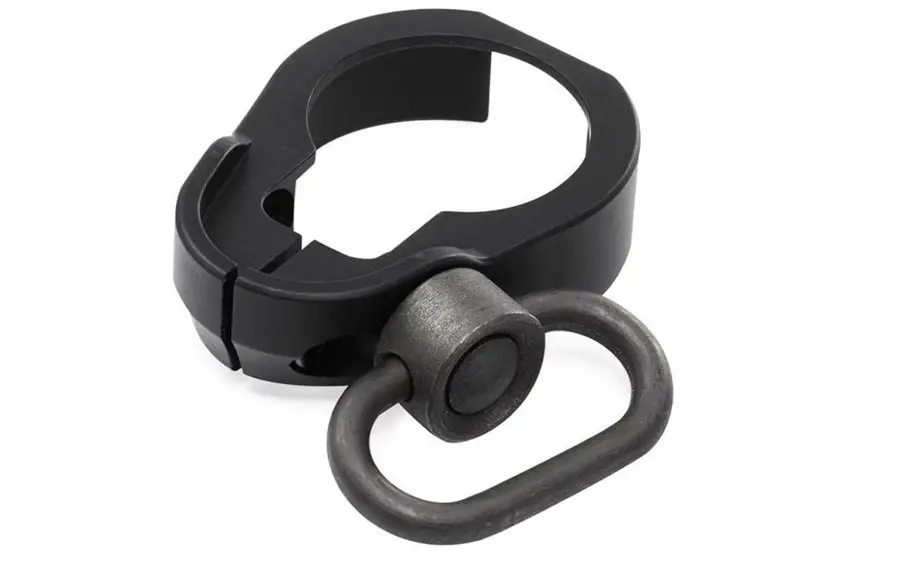 The Daniel Defense sling is compact, light, and simple to use. So all it takes is a few minutes and the necessary tools, and you're good to go.
This sling swivel comes as near as possible to becoming a universal sling swivel. As a result, adding your sling and using it for hands-free carrying might be good, especially if you need to return to your truck with your recent big game kill.
So, if you have a sling that is pleasant to wear for a long time, you'll have a swivel that will complement it nicely.
Adjustable stock carbines have an ambidextrous aluminum mount that fits the receiver extension tube directly. This setup does not need you to dismantle the stock, unlike other receiver attachment sling attachments.
On the other hand, it can be bolted to the receiving end. It has a heavy-duty quick-detach push button swivel that can accommodate slings up to 14 inches wide.
The adapter has a built-in rotation restriction where the stud can be set horizontally or vertically to handle swiveling. This mount is ideal for people and areas where it is illegal to alter guns.
Features
Ambidextrous aluminum mount
Built-in rotation restriction
Heavy-duty quick-detach push button swivel
5
Viking Tactics VTAC-LUSA Front Sling Adapter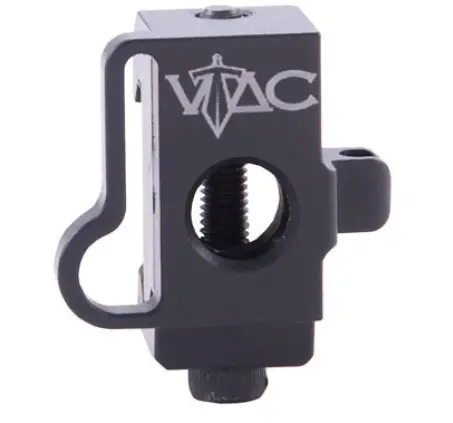 While the Viking Tactics VTAC-LUSA Front Sling Adapter is small and light, it is built to be as tough as a tank, capable of handling nearly any rifle. This sling adapter may work in your favor for practically any purpose if you want something simple to install and operate.
This front sling adapter is made of aluminum and is lightweight, sturdy, and weather-resistant. The sling adapter is similarly made to be simple to install and remove, and it may be used on the armguard for one-, two-, and three-point slings.
The Viking Tactics VTAC-LUSA Front Sling Adapter also is the most versatile sling adapter on the market. It's a four-in-one adaptor that can be attached with a hex wrench or even a survival knife over a Picatinny or Weaver rail.
You can use Quick Detach push button swivel studs, H&K type clip-on swivels, basic Uncle Mike's-style swivels, or pass your sling through the adapter's loops. This handy little adaptor will be available for you no matter what you want to use it.
Features
Made of aluminum
4-in-1 versatile design
Limited 45-degree swivel rotation
Factors To Consider When Buying the Best QD Sling Mount For Your Rifle
It would be best to adequately educate yourself about the available products and the greatest alternatives in the market before investing your hard-earned money into one. We've developed a list of factors to consider before purchasing a QD sling swivel to make your process easier.
Function
You should think about the functioning of a QD sling mount before purchasing one. The functionality of a QD sling mount is usually dictated by its specs. The higher the functionality, the more detailed the specifications.
Price
One of the most significant elements to consider when purchasing QD sling mounts from Amazon is price. Nobody wants to pay a high amount for a high-quality product. You can compare laptop costs from many retailers on Amazon and choose the best deal.
Brand
When purchasing a QD sling mount from Amazon, you should also examine the brand. It is necessary to comprehend each brand sold by different merchants to make the best decision. In general, high-quality and well-known brands, such as Apple, are more expensive than lesser-known brands.
Conclusion
A sling mount for your rifle is a tactically wise accessory. It aids in the control of slings and swivel movement.
Depending on your demands and budget, you can pick between fixed and QD (Quick Detach) sling mounts. Sling mounts come in various styles that are suitable for various applications.
Sling mounts are typically simple to set up. However, even if the price is a little excessive, you must guarantee that you are purchasing a decent quality mount.
Before purchasing a sling mount, think about the types of slings you use and how you want to use your rifle.
Similar Articles