This Sig Sauer SOB53101 Bravo5 Prismatic Sight is the world's first wide field battle sight, providing an industry-leading 42% wider field of view than other battle sights.
The sight features a unique design suitable for both professional and civilian MSR/AR-shooters.
The Bravo5 features a combination of Low Dispersion (LD) glass and aspherical lens design, which provide a notably flat, distortion-free image with unprecedented edge-to-edge clarity.
It is made of a lightweight yet durable magnesium housing with an integrated Picatinny top rail which holds additional accessories such as MRDs and lasers.
Sig Sauer Bravo 5 Review
In addition, it features the centerline of the optical axis at 1. 535" above the top of an M1913 Picatinny rail interface for night vision use.
This Sig Sauer prismatic sight also features an adjustable eyepiece with +/- 2 diopter correction. In addition, it offers a highly dependable IPX-8 waterproof (to 400 bar or 13 ft) and fog-proof performance.
The Bravo5 comes with a 5x magnification with a 10° field of view. It also has high-performance coatings and a bright illumination setting, offering you an unparalleled shooting experience.
Features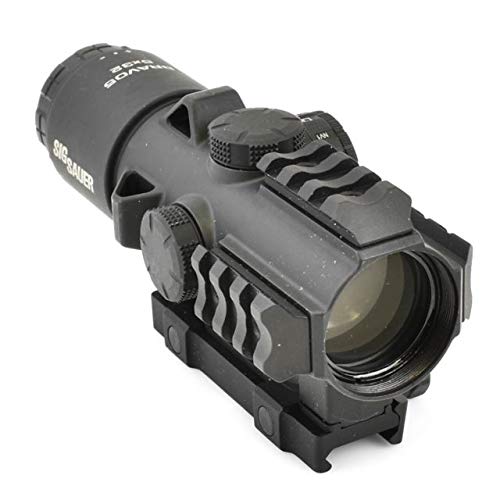 This tool is made of a lightweight yet durable aluminum housing for a lifetime of performance
The Bravo5 features a MegaView system that uses an advanced prism and ocular design to offer a 43% greater field of view than the competitive prismatic battle sights
The MOTAC (Motion Activated Illumination) powers up in sensing motion and powers down when there is no motion. This feature helps with optimum operational safety and increased battery life
Sig Sauer SOB53101 bears a combination of Low Dispersion (LD) glass and aspherical lens design for a notably flat, distortion-free image with edge-to-edge clarity
The eyepiece is easily adjustable with +/- 2 diopter correction
It is waterproof even when emersed in water to 13 ft
The fog proof features ensure clear, crisp images even when there is a drastic change in temperature
Bravo5 uses a CR2032 battery
Specifications
It has a magnification of 5x30mm
It has a 5.56mm/7.62mm Horseshoe Dot reticle
Adjustment Click Value: 1/2 MOA
It measures: 6.30″ x 2.53″ x 2.80″
Weight: 22.40 oz.
Pros
It is unisex hence can be used by all adults
It is lightweight and easy to use
Cons
The prismatic sight has a fixed magnification
Conclusion
This Sig Sauer product is a duty-grade optic, featuring very clear glass and very robust construction. The sight has a durable construction that is also equipped with waterproof features to ensure that you can comfortably use it in wet conditions.
It will ensure clear, bright pictures regardless of changes in humidity and temperature, thanks to the fog-proofing features which keep the interiors free of fog. In addition, the Bravo5 prismatic sight offers a generous eye relief of 2.5 inches to keep your eyes and eyebrows safe during recoil.
The field of view is excellent, as so is the illumination. Moreover, it is extremely rugged hence can withstand the harsh conditions in the field, including accidental knocks and drops.