This is a comprehensive Binoculars 16×50 Review that covers the pros, cons of Bushnell Powerview 16×50 Binoculars.
These Powerview binoculars are part of the largest line of Bushnell-quality, affordable binoculars. They are made in a contemporary style and design, featuring the legendary Bushnell quality and durability. In addition, the binoculars are very easy to hold and use, an aspect that makes them an excellent choice for the general and outdoor user.
Powerview binoculars come with soft rubber covering, a neck strap, and a carrying case. They offer a magnification of 16×50, with an insta-focus focusing system that only requires a touch of the fingertip to hold your target in sharp focus. It provides a 182ft @ 1000 yards large field of view, making it very convenient for the great outdoors.
Binoculars 16×50 Review: Bushnell 16×50 Powerview Binoculars Reviews
Like many other binoculars in the line-up, these binoculars are affordable and provide great durability and performance. The compact design houses fully coated optics that ensure no light is reflected from the lenses for crisp, clear, and bright images even in low light.
Features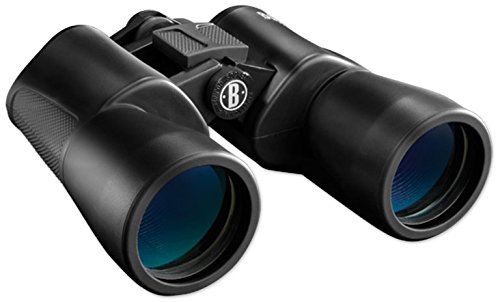 Bushnell Powerview 16×50 Binocular has a variable diopter setting that provides fine focusing to compensate for varying eye strengths
All air-to-glass surfaces are coated with magnesium fluoride to reduce light loss and glare due to reflection and increase light transmission for clear, bright images
Bushnell Powerview 16×50 Binocular is designed with soft, flexible rubber eyecups for comfortable viewing with the naked eye. These eyecups roll down easily for eyeglass wearers
It comes with a soft carrying case, neck strap, and lens cloth
Patented 1-touch InstaFocus system holds your subject in sharp focus; it has a 35-foot close focusing distance
Being a powerful binocular, it has a 16x magnification that allows for extreme distance viewing
The binocular is designed with a nonslip rubber armor that absorbs shock making it suitable for rough outdoor use. It can withstand accidental drops and rugged use.
The objective lens diameter is 50 mm
Measurements: 8 inches length, 7.9 inches width, and 4.3 inches high
Bushnell Powerview 16×50 Binocular is easy to carry with 29 ounces of weight
Exit Pupil: 2.9mm
Pros
Cons
The binocular is larger than others from its class, requiring more effort to handle compared to others of the same line-up
Conclusion
Bushnell Powerview 16×50 Binoculars make one of the ideal binoculars for hunters, hikers, anglers, naturalists, and outdoor professionals. The binocular has a classic binocular design, with eyepieces offset from the objective lens to help you to observe objects up to 16 times closer than their actual distance and provides a clear, bright image in most viewing situations.
The binoculars offer a 168-foot viewing area at a distance of 1,000 yards, and the 50mm lens ensures maximum light-gathering capability for the best quality images even in low light conditions. In addition, they have a unique fingertip-touch focusing mechanism that ensures you can quickly focus on your target.
This binocular is very affordable, making it suitable for any person pf enjoying the great outdoors. Its outstanding durability and performance make it great for travel, hunting, hiking, bird watching, among other activities.