With Leupold's Twilight Light Management systems, the 3-9×40 riflescope offers industry-leading brightness and clarity by balancing light transmission and image contrast and resolution for a crisp image in any lighting condition.
This light management system adds up to 10 extra minutes of shooting light and reduces glare for crisp image quality.
The riflescope disperses recoil energy for increased durability and performance with an ultra-lightweight design and an easy-to-grip power selector that allows easy magnification adjustments.
Leupold VX Freedom 450 Bushmaster Review
In addition, the 450 Bushmaster 3-9×40 riflescope has a duplex reticle, matte finish, and a one-inch main tube that provide durability and a classic look. The combined features provide a crisp quality image in all manner of lighting.
The Leupold VX Freedom 450 Bushmaster 3-9×40 riflescope also features a ballistically matched bullet drop compensation elevation dial optimized for .450 Bushmaster. The precision 1/4 MOA finger click adjustments for windage and elevation offer absolute repeatability and dependability over a lifetime of continued use.
Features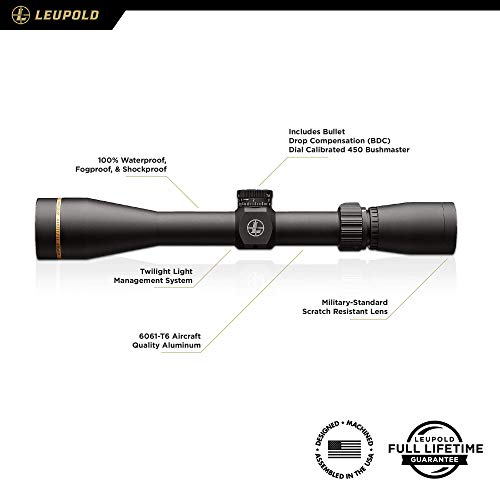 The 450 Bushmaster riflescope is an addition any shooter wants on their shelf. It is pumped with many features, some from the old model and others new features, to help make the shooting experience smooth and easy.
Like other Leupold riflescopes, the 450 Bushmaster 3-9×40 Riflescope features a proprietary gas blend, and seals are tested to a 33-foot depth and rapid pressure changes.
Leupold VX Freedom 450 Bushmaster is designed to withstand a minimum of 5,000 impacts (each with force 3x the recoil of a .308 rifle) on the Punisher, Leupold's recoil simulation machine.
The Leupold riflescope is tested to perform from -40ºF to 160ºF
It has a duplex reticle and Matte finish for performance and durability
The riflescope features 100% Waterproof, fog proof, and shockproof construction
Specifications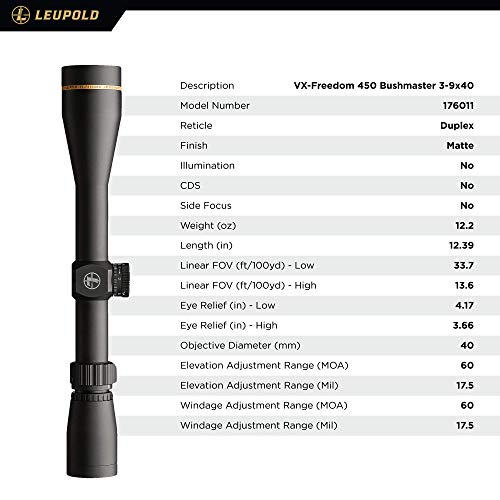 It has an eye relief of 4.17 in (low) and 3.66 in (high)
The main tube diameter is 1 inch
The scope weighs 12.2 ounces
The length is 12.39 inches
Magnification Range: 3x-9x
Linear FOV (ft./100 yd.) – Low: 33.7
Linear FOV (ft./100 yd.) – High: 13.6
Pros
The riflescope has an ultra-lightweight design which makes it easy to operate even in the field.
The rugged performance makes it able to withstand the harsh hunting/ shooting environments
It has unparalleled low light performance
Cons
The riflescope does not have rubber on the eyepiece. However, it has a generous eye relief that protects your eyes from recoil.
Conclusion
The Leupold VX Freedom 450 Bushmaster riflescope is designed to provide a variable magnification of 3 to 9 times (3x-9x). This scope delivers the legendary Leupold performance, as well as high-level dependability that hunters and shooters have demanded for decades.
The riflescope offers numerous features which guarantee getting the job done every time regardless of the weather or lighting conditions. The Twilight Light Management systems for example helps by increasing the shooting time by reducing glare, increasing light transmission, and balancing image quality.
The riflescope also has a super lightweight design which makes it easy to carry around when maneuvering the shooting fields. This scope is ideal for use with many types of rifles among them the 450 Bushmaster.