This is a comprehensive Bushnell 1 8 Scope Review that covers the pros, cons of Bushnell 1-8×24 AR Optics Ill BDC.
Bushnell AR Optics Riflescope is designed with a throw-down power change lever for easy and quick magnification changes. It also has 6-mil-per-revolution turrets that are capped to protect them from bumps and rugged use. The riflescope uses a 30mm main tube, and it has a CR2032 battery to provide illumination in low light.
Bushnell 1-8×24 AR Optics Ill BDC features the Bushnell illuminated BDC reticle that ensures fast and accurate target acquisition. You will be able to switch between magnifications with the two Throw Down Power Change Levers (PCL) of different lengths that are included. The PCL levers have two different heights for easy customization.
Bushnell 1 8 Scope Review: Bushnell 1-8×24 AR Optics Ill BDC
Apart from being IPX7 waterproof, this riflescope has fully-multi coated optics that deliver crisp, clear images in every lighting condition.
The scope comes with scope covers, short-throw lever, long-throw lever, Spudz lens cloth, multitool, instruction sheet, and a quick start guide.
Features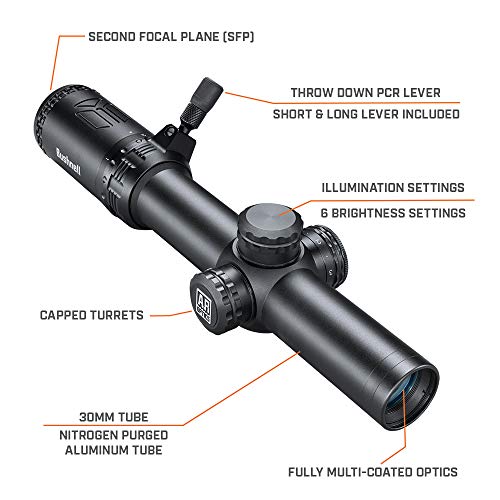 This Bushnell riflescope is among the many in from the well-known brand of hunting products. It is designed with great features that ensure the best performance in the field.
The scope features a throw-down PCL lever that can is customizable with two different heights. This feature allows you to customize the height to your preference
The BDC reticle offers precise elevation holds for specific ammunition. This provides a clear sight picture even in low-light scenarios
The illuminated .223/.556 BDC SFP reticle provides great low-light performance and accurate holdovers out to 500 yards with 5.56 NATO.
The Bushnell product is calibrated for use with 223 Rem/5.56 ammunition loaded with 55-62 grain bullets
The scope has multiple layers of anti-reflective coating on all air-to-glass surfaces to provide bright, high-contrast images, with reduced glare and reflection
To be fit for use in rugged conditions, this riflescope is made with a shockproof and waterproof durable construction; the O-ring sealed optics stay dry inside even when immersed in three feet of water for up to 30 minutes
It also has capped turrets that help to protect against hard use
Pros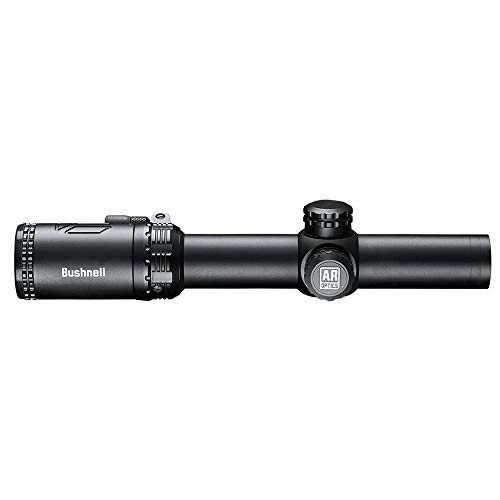 The multicoating prevents reflection, which would result in blur images deterred accuracy
The scope has a 30mm outer tube diameter which allows easy mounting
It s unisex and easy to use by both male and female adults
Cons
It has no parallax adjustment setting
Conclusion
Bushnell 1-8×24 AR Optics are designed to provide the best hunting operations for both beginners and experienced individuals. The scope is a great companion in diverse hunting environments including low-light and wet conditions, thanks to the durable, weatherproof construction.
This scope's compact size and lightweight build allow you to easily maneuver the hunting fields with your rifle with great balance and total control. It ensures that you get the best of your rifle, without compromising on your accuracy. It is a good accompaniment to your rifle with easy adjustments to suit different user preferences.
The Throw Down Power Change Lever makes magnification changes nearly instant, saving you time while the capped turrets protect the dials from everything, hence you can be confident in every shot. Top of Form