Are you looking for the best reloading kit for beginners? You may be overwhelmed with the choices, but the main aim of this post is to narrow down your search.
The best reloading kit for beginners should be straightforward to use. It should include a reloading press and accessories that work properly.
Reloading or handloading can be described as recycling spent ammo components. This means that you do not have to buy new ammunition. You have to put the brass case back to its proper size, remove the spent primer, and put in a new one.
You need to put the right amount of the right powder before sealing the bullet inside the case. This will result in a reloaded cartridge ready to fire again. The best reloading kit allows you to reload 400 cases within an hour.
Why Should You Reload Your Own Ammo?
Reloading your own ammo can cut down your ammo expenses by half. You can buy your own ammo for your shooting needs. However, if you want to improve your shooting skills, it can be costly to reload your ammo.
For example, if you reload 9 mm rounds, you may save 20% off the price.
With enough practice, you can reload your ammo according to your own specs. You will even end up with accurate rounds compared to factory-made rounds.
If you have a large arsenal, you can even reload wildcat cartridges, which are not factory-made.
Best Reloading Kits for Beginners
In this post, we will look at some of the best reloading kits available on the market today. They are constructed from durable materials and will last for a long time.
Some of them include reloading manuals, but you can purchase one separately. This will help you learn every step of the process, particularly if you are an absolute beginner.
Let us get right into it.
1
 Lee Challenger Breech Lock Single Stage Press Kit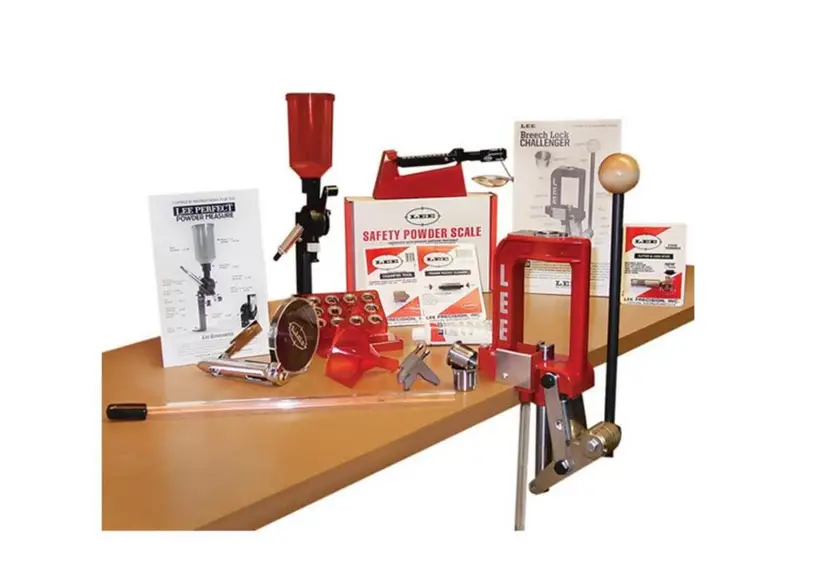 This kit includes the popular Challenger Breech Lock Single Stage Press. The press features an "O" frame design with a 4-1/4″ opening angled at 30 degrees for hand clearance. The Breech Lock quick-change die system holds dies in detachable inserts that can be easily removed.
It also includes a spent primer catcher that is very effective. The press is constructed from ASTM 380 Aluminum. It has 3-offset mounting holes and can handle cartridge lengths from the short 0.905″ 25 ACP to the long 3.750″ 460 Weatherby.
However, it is important to note that the reloading dies, reloading components, and Lee case length gauge for trimming brass are not included in this kit.
Features
It is constructed from durable materials to ensure its longevity
It is effortless to use, especially for beginners
It includes a powder measure, primer pocket cleaner, powder funnel, and a case trimmer.
2
 RCBS Reloader Special-5 Explorer Plus Single Stage Press Kit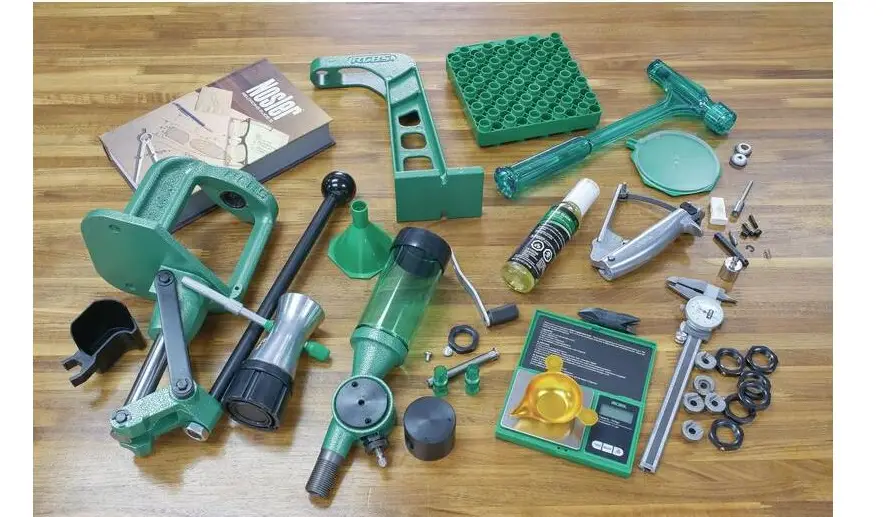 The powder measure throws consistent charges uniformly from the measuring cylinder into the cartridge case. The 1,500-grain digital pocket scale has +/- 0.1-grain accuracy and is powered by two AAA batteries.
The universal case loading block has a double-sided design. It features 25 holes on each side for loading a variety of calibers.
The powder funnel fits cases from 22 to 45 caliber and helps to avoid messy powder spills. The powder tickler is perfect for any reloader looking to trickle that final amount of powder into their powder pan to get the desired weight charge. You are also provided with an advanced made from durable aluminum.
Features
It includes a stainless steel dial caliper for taking accurate measurements
You are provided with a deburring tool that chamfers and deburrs case mouths
It includes six die lock rings made from steel
3
Hornady Lock-N-Load Classic Single Stage Press Deluxe Kit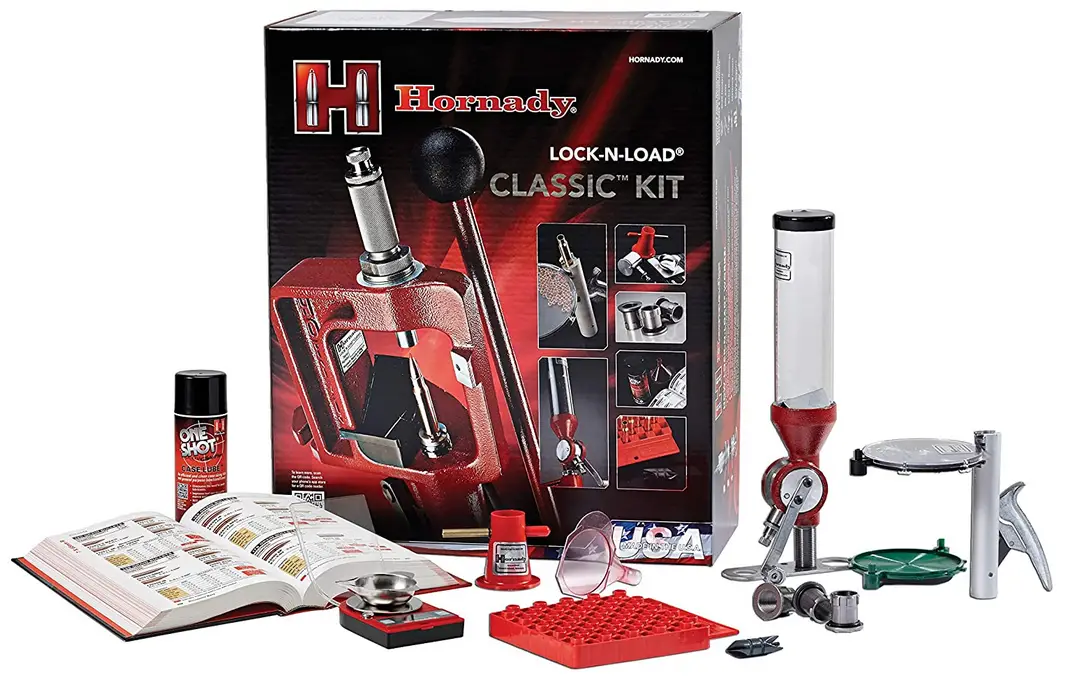 The digital scale provides you accurate readings on each use. The reloading handbook contains all the information you may need on how you can reload your ammunition. This is perfect for beginners as well as experienced reloaders who want to hone their skills.
You are also provided with a positive priming system, with small and large primer cups—the powder funnel and powder trickler help avoid messy powder spills.
The deburring tool easily chamfers and deburrs case mouths. The other accessories in the kit include a primer catcher, powder measure stand, vintage tin sign, kinetic bullet puller, and many more.
Features
It includes 3 Lock-N-Load Bushings, a powder measure stand, and a single-stage press.
You are provided with a comprehensive reloading manual
It includes 6 sure-loc die lock rings and a steel dial caliper
4
Hornady Lock-N-Load Classic Single Stage Press Kit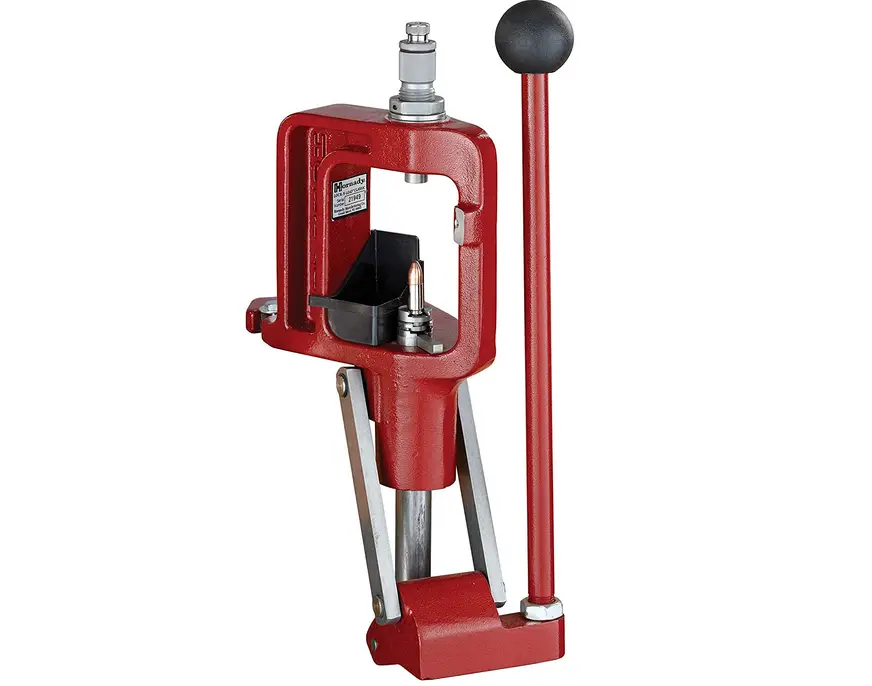 Seasoned reloaders can also use this press kit because it is designed to last a lifetime. You are also backed up with a lifetime warranty that allows you to replace or repair any accessory.
The powder measure is straightforward to use. It is accurate and so easy to dump the powder back out of. The Lock-N-Load bushings allow you to change dies when reloading ammo quickly.
You are also offered a classic press packed with many features, including an angled frame, positive priming system, and easy-grip handle.
Features
Your purchase includes a chamfering and deburring tool
It includes a 5.5 oz can of one shot aerosol case lube
It includes a positive priming system with large and small primer cups
5
Lyman Ultimate Reloading Press Kit System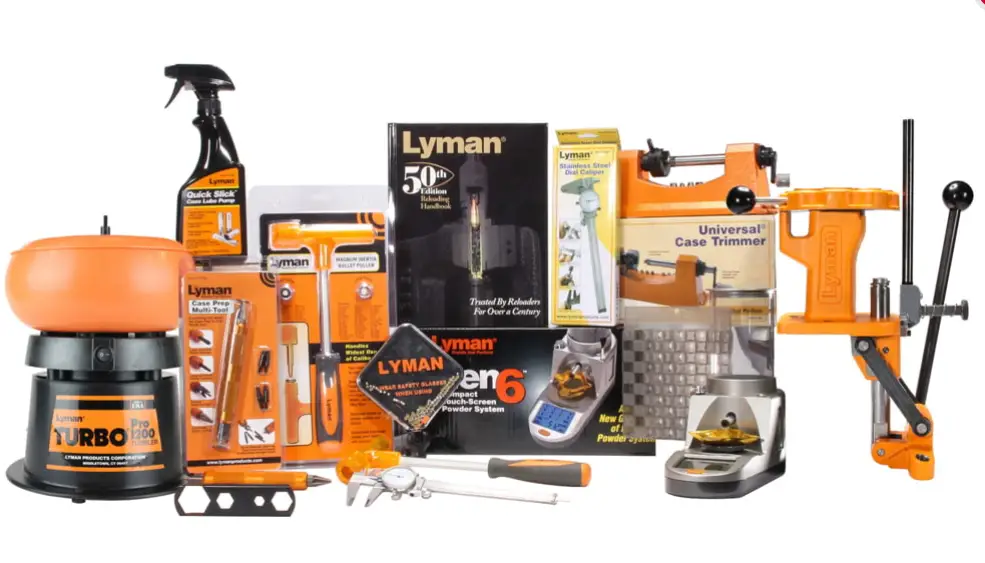 The Brass Smith 8-Station turret press is made from durable materials to ensure that it will last for a very long time. The turret bolt can be easily removed, which makes swapping turrets simple.
The case trimming and maintenance tools included are very reliable. It also includes a Lyman reloading handbook that helps both beginners and experienced reloaders hone their shooting skills.
Other accessories in this kit include a bench wrench, Pro 1200 turbo trimmer, quick slick case lube, and stainless steel calipers.
Features
It includes a magnum inertia bullet puller, which is very easy to use
It includes a Gen 6 powder system, which prevents messy powder spills
The turret press included is equipped with a comfortable ball ambidextrous handle
6
LEE PRECISION Classic Turret Press Kit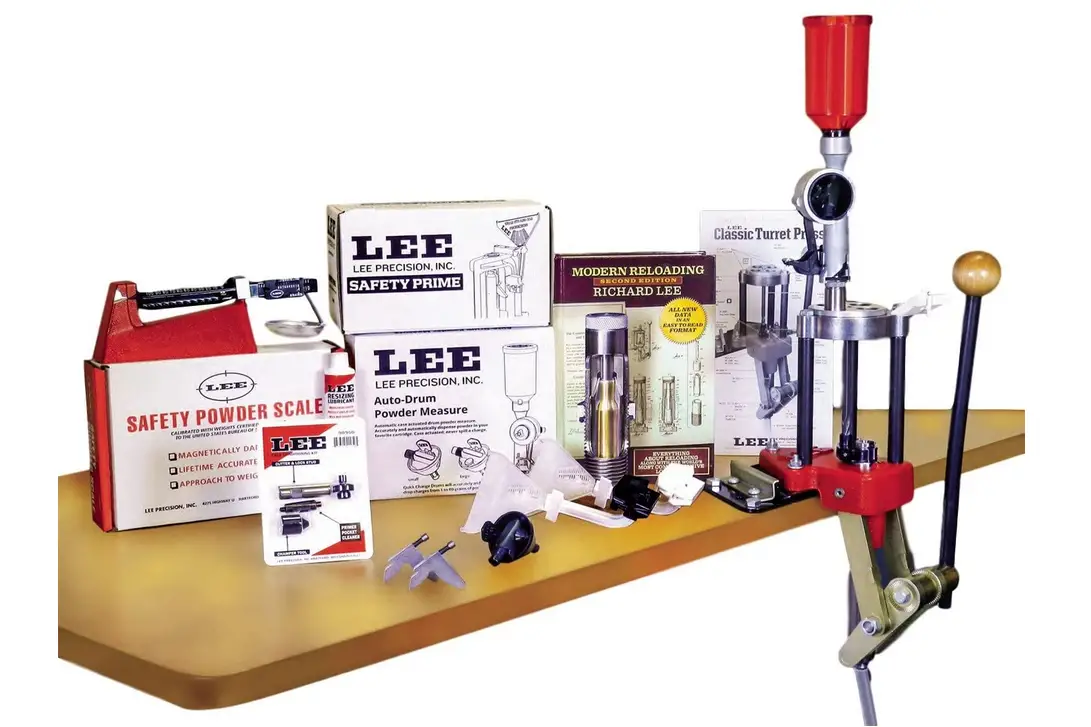 We recommend that you disengage the auto-indexing feature when using the turret press to resize and deprime some rifle rounds. The case trimmer allows you to trim the brass as needed. Once you are done, you can go back to auto-indexing as you use the turret press to prime, charge the case, and crimp the case.
However, it is important to note that you need to purchase the right dies separately. This affordable kit will save time when reloading ammunition and cuts costs.
You are also provided with a scale that works nicely, but newbies may find it tedious compared to a digital scale.
Features
The kit works for pistol and rifle rounds, but larger rifle cases will require you to go with manual indexing.
It includes a reloading manual you can use to hone your reloading skills
It includes a powder measure riser and an auto-drum powder measure
7
 LEE PRECISION Anniversary Challenger Kit II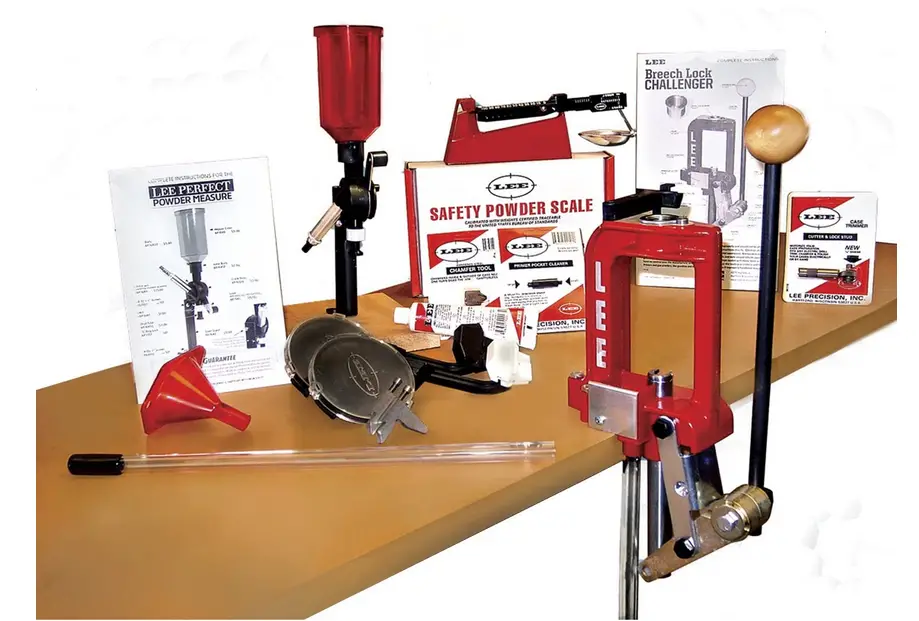 It is worth mentioning that most beginners might have a hard time using the mechanical scale. However, you can replace this with a digital scale.
This affordable kit includes a reloading manual, along with a caliper and reloading tray. It also comes with a complete powder handling system.
Features
It includes a small and large primer feeder.
It offers you a complete powder handling system, with powder measure
The accessories included are fairly complete for most reloading tasks
Factors You Should Consider Before Purchasing the Best Reloading Kit for Beginners
By now, we are sure you have selected the best reloading kit. However, before you make your purchase, here are some of the factors you should consider:
Brand Name – We recommend purchasing a reloading kit from the best brands in the market today. These popular brands are famous due to their reliability, quality, and innovative features. The kits included in our list are from the best brands that have proven themselves over the years.
Type of Reloading Press – There are many types of reloading press on the market today. Single-stage reloading presses are affordable and easy to use, which makes them perfect for newbies. On the other hand, progressive bullet reloader presses are complicated but allow you to reload many rounds.
Quality of the Press – The press should be constructed from high-quality materials to ensure its longevity.
Accessories – The best reloading kit for beginners should include all the necessary accessories for reloading purposes right off the box.
Conclusion

Now, it is up to you to decide which reloading kit you will purchase. If you are looking for a super complete kit, the Lock-N-Load Classic Kit Deluxe from Hornady is a good choice for you. It should also include a reloading manual, which will contain relevant information about reloading different calibers.
If you are a newbie, we recommend using a single-stage press because it is easier to learn and affordable.
We hope that this list helped to narrow down your search for the best reloading kits for beginners.