In this Vortex Optics Sonora 4-12×44 Second Focal Plane Riflescope – Dead-Hold BDC Reticle review, we have researched this scope and would like to share with you all the best features of Vortex Sonora 4 12×44.
Vortex Sonora Scope 4 12×44 is a long-range scope that combines fully multicoated lenses for crisp vision.
This scope is ideal for hunting or shooting at different ranges.
It redefines what a rifle scope can do, with excellent features and high performance.
This scope features a shockproof, rugged construction that can withstand the highest levels of recoil and impact.
It will deliver a good long-range shooting experience for beginners.
Why is Vortex Sonora 4-12X44 Popular?
The following are some of the outstanding features that make this scope popular among gun enthusiasts:
44 mm objective lens
Eye relief of 4 inches
Affordable price compared to other scopes of the same category
Second focal plane scope
Dead-hold BDC Reticle
Vortex Sonora 4 12×44 Review (Specifications Summary, Best Feature, & Use Cases)
Let's go through the specifications, features, and common uses of the Vortex Sonora 4-12X44 scope.
Scopes Specifications

 
Magnification: 4-12x

Objective Diameter: 44 mm

Length: 13.5 inches

Weight: 15.8 oz

Field of View: 24.7-8.4 ft/100 yds

Eye Relief: 4.0 inches

Adjustment Graduation: 1/4 MOA

Optics Coatings: Multi-coated

Travel Per Rotation: 15 MOA

Max Elevation Adjustment: 60 MOA

Max Windage Adjustment: 60 MOA

Parallax Setting: 100 yards

Finish: black

Mounting Rings Included: No

 
Most Outstanding Features of Vortex Sonora 4-12X44
The scope includes an easy-to-use parallax dial that makes the focal point of the lens clearer. The tube is made out of aircraft-grade aluminum that offers a versatile blend of adjustment for almost every shooting application.
It can also deliver relentless performance in low light conditions or in any weather.
Summary of Good Qualities
In a quick summary, these are the qualities that make Vortex Sonara a great scope for a mid-budget hunting or regular shooting scope: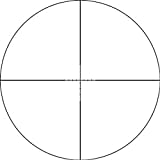 A good magnification range of 4-12X is good enough for most hunting needs.
Long eye relief of 4″ makes it an exceptional hunting scope
Rugged, tough construction like most other high-end Vortex scopes
The second focal plane (SFP) reticles let you see the target at the same appearance as you change the magnification.
These are the five qualities that qualify Vortex Sonora 4-12X44 Riflescope to be one of the best if not the best mid-budget hunting scope.
Best Use Cases
Vortex Sonora 4-12X44 is ideal for hunting and has been used for successfully hunting big game. Its crisp vision ensures that you have a clear and accurate shot.
The coated lenses ensure that the scope efficiently pushes through light to provide a clear picture.
Many hunters recommend this scope because it is durable and delivers good accuracy for medium to long-range shooting.
You can also use it for target shooting.
Vortex Sonora 4-12X44 Rifle Scope Detailed Review
Vortex Sonora 4-12X44 combines fully multi-coated lenses for a clear sight picture with generous eye relief. Its 24.7-8.4 ft/100 yds field of view makes this a great optic for shooting at different varying ranges.
Let's go through some of the features this scope has to offer.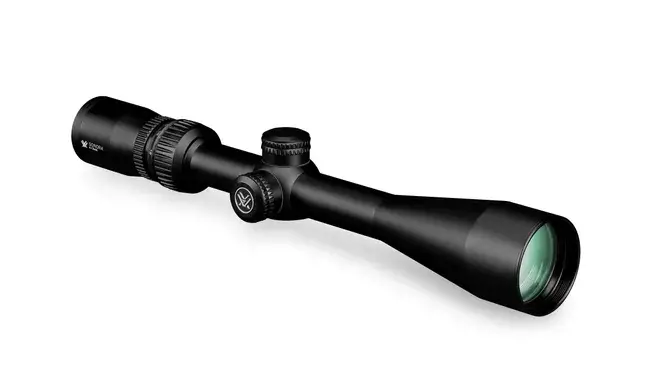 Features 
Here are features of Vortex Sonora 4-12×44 Scope :
The anti-reflective lens coatings increase light transmission to offer you brilliant resolution.
Vortex Sonora scope 4 12×44 is made of a hard-anodized, single-piece, aircraft-grade aluminum tube.
The tube is nitrogen purged and O-ring sealed to deliver waterproof and fog-proof performance.
It is designed to withstand any weather condition.
It is ideal for hunting and shooting.
The multi-coated lenses increase light transmission.
The hard anodized finish provides a low-glare matte surface.
The surface helps to camouflage your shooting position.
Vortex Sonora scope 4 12×44 offers a 4-12x zoom that ensures magnification versatility.
The parallax adjustment feature ensures that you never miss any shot.
Vortex Sonora 4-12X44 offers generous eye relief that ensures you get an accurate shot.
The internal parts are very durable.
It is dust-proof, fog-proof, shockproof, and waterproof.
Pros
I would like to highlight the reasons why you should consider Vortex Sonora, these are the Pros:
A perfect scope that delivers great value at the low to mid-budget price
This scope works with a variety of calibers and have been reported to be excellent for 270  and works perfectly with

AR15

Multipurpose hunting use but is good for up to 300 yards
Good eye relief and a Dead-Hold BDC reticle are a great value for a scope of this price range.
Reasonably durable and works in all weather conditions since it has a relatively sturdy construction.
Cons 
I would like to share with you the reasons why you should not consider buying this scope these are the Cons:
It has a glare which makes shooting a strain especially shooting in low light conditions.
This scope cannot be useful for targets beyond 300 yards.
Our Verdict 
We recommend this scope for hunting or shooting because it is easy to mount. It is very easy to use even for beginners.
The construction is also sturdy, making it one of the most durable scopes you can acquire on the market today
The Vortex Sonora 4-12X44 scope is ideal for precision shooting at different ranges. The waterproof design ensures that you can use it in any weather.
You can be sure that this is the best scope for your money.
Video Review
The following are some of the video reviews we have watched and would like to share with you to help you make an informed choice if you decide to go ahead and buy this scope.