Bushnell Trophy TRS-25 Red Dot Sight Riflescope, 1x20mm, Black
Riflescope features a spherical objective lens at the front of the unit. In this Bushnell trophy TRS 25
red dot sight
review, we highlight the features, pros and cons of this red dot sight and find out how it compares to other red dot sights in this category.
Bushnell Trophy TRS 25 Red Dot Sight Review
In this red dot sight, the objective lens is positioned off axis and appears to be tilted when looking at the sight.
This is contrary to other conventional riflescopes which have all the lenses mounted perpendicular or at a 90 degree angle to the axis of the tube. The front lens is designed at this angle to allow the light from the battery powered LED light source inside the unit to be reflected back into the sight.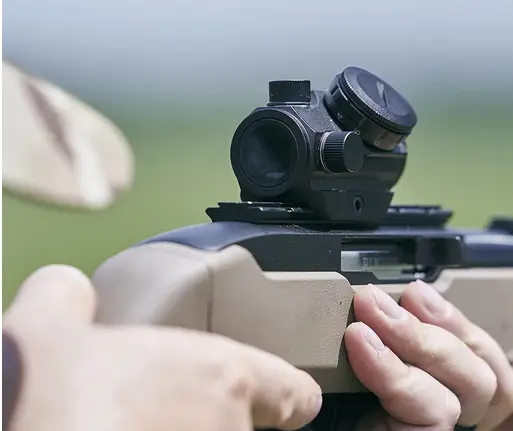 This reflection of light becomes the dot or aiming reference that is seen by the shooter when a red dot sight is switched on. The described engineered bending of light is what makes this red-dot sight easy to use and highly popular.
In addition to that, the TRS-25 Red Dot Sight has a heavy-duty construction that is nitrogen-purged to prevent any fog up when the humidity or temperatures rapidly change. It is also O-ring sealed to keep it waterproof and dry even when fully immersed in water.
With easy mounting on Picatinny rails, the riflescope is perfect for use with pistols, shotguns, rifles and muzzleloaders.
Features
The TRS-25 offers 11 brightness settings that are easily adjustable. They aid in illuminating the 3 MOA dot reticle inside for better target acquisition. Use of the lower brightness settings help to increase and maximize the red dot's battery life.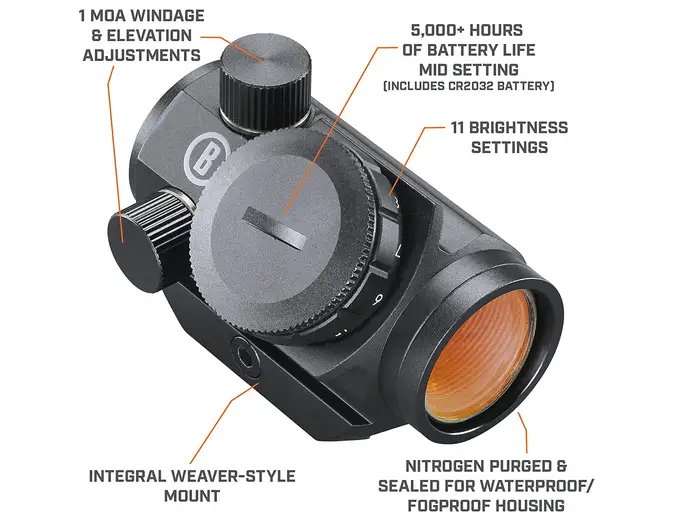 Having been designed to withstand bumps, bangs and drops, the TRS-25 comes with a strong, precision-engineered housing that is well suited to the rough-and-tumble environment of the field. The shockproof nature of the riflescope makes it easy to use in the rough shooting environment.
The red dot sight has a black matte finish for durability
To ensure waterproofing, the riflescope is O-ring sealed to keep out water
Bushnell Trophy TRS-25 Red Dot Sight Riflescope has 11 brightness settings to suit different lighting conditions
This riflescope is easy to mounts on most Picatinny rails
Bushnell Trophy TRS-25 Red Dot Sight Riflescope has a parallax of 50
It has a nitrogen purged construction that prevents any formation of fog on the interior during rapid temperature and humidity change
Pros
The red dot sight is made of strong materials that provide recoil resistance
Bushnell Trophy TRS-25 Red Dot Sight Riflescope is very affordable at just under $100
It has a mirror finish on the lenses to provide maximum light transmission and glare reduction
Cons
Bushnell Trophy TRS-25 Red Dot Sight Riflescope has red glare in upper left which, depending on lighting conditions, can be so intense and distort sight picture
Conclusion
This red dot sight riflescope by Bushnell is one of their many quality products. It is designed with water proof gaskets inside every knob that are quite thick and durable to ensure waterproofing eve when the sight is immersed in water.
At under 100 dollars, you expect that this product will have many faults. On the contrary, it is designed with great features to take you through the rough of the field.
Bushnell Trophy TRS 25 Red Dot Sight Riflescope Review Video