This is a comprehensive Bushnell 4.5 18×40 review that covers the pros, cons of Bushnell AR Optics 4.5 18×40 scope.
Bushnell 4.5 18×40 is one of the high-quality optics from Bushnell. It offers BDC turrets that allow you to use the most popular calibers conveniently.
In addition, the BDC turrets provide more precise shop placement than BDC reticles. The product has the new wind hold reticle and a coating that bonds to exterior lens surfaces and repels water, oil, fog, dust, and debris.
The 18x40mm optics has a folding throw lever that allows for the quickest power changes imaginable.
This riflescope features BDC turrets for popular chamberings that work accurately at any magnification setting. In addition, the exposed turrets allow you to dial for windage and elevation adjustments quickly and accurately.
Bushnell 4.5 18×40 Review: Bushnell AR Optics 4.5 18×40 Scope

The product will be most appropriate for you if you are a mid and long-range shooter, with a large 4.5-18x magnification range and 40mm objective. The riflescope also features a side focus parallax that goes down to 10 yards, allowing you to take the close shots as well as the long ones.
This riflescope is also designed with a pre-installed throw-down power change lever (PCL) that allows you to perform quick magnification changes. You will be able to make more rapid change operations by simply unscrewing the top half of the short PCL (pre-installed) and replacing it with the longer one.
Features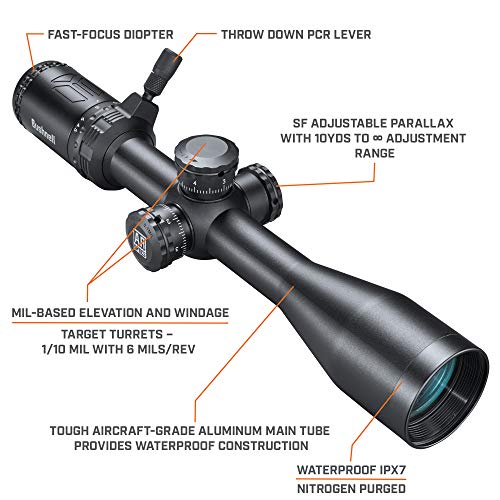 This scope is constructed of a single-piece aluminum tube that is strong and highly durable. It comes with numerous features that help maximize its use and power. This includes;
Bushnell ar optics 4.5 18×40 riflescope features short and long Throwdown levers for quick magnification changes
The riflescope is made of high-grade materials for strength and durability
It has large, exposed MIL turrets that are fast and easy to dial windage and elevation
It also features an adjustable side focus parallax for easy target acquisition with a wide area of view
The scope's etched glass reticle is tough to give you confidence in every shot. It ensures precision and accuracy
The riflescope offers a large magnification range with a 40mm objective lens
Bushnell ar optics 4.5 18×40 riflescope has a generous eye relief that ensures your eyes and eyebrows are safe during recoil when using heavy, powerful rifles like the ARs.
Pros
Bushnell ar optics 4.5 18×40 riflescope is lightweight and easy to handle
It is unisex hence can conveniently be used by both male and female adults
Cons
The mounting parts have to be purchased different if required as they do not come as a package with the product
Conclusion
The Bushnell AR Optics 4.5-18x40mm scope can best be described by precision, accuracy, durability, and dependability. It offers great optical quality and performance, making it the perfect choice for serious shooters and hunters.
With a weight of just 21.44 oz and 12.4 inches in length, the product is easy to manage in the field where you are likely to have a lot on your hands. It is not likely to slip off your hands easily thanks to the non-slip handle material.
Bushnell offers special scopes for each caliber, including the 22 LR, .223/5.56, .308, 300 Blackout, and even 6.5 Creedmoor. This riflescope is designed specifically for the AR platform. It has a throw-down power change lever that you can set to two different heights, making it as customizable as the rifles.