Searching for the best fireproof gun safe on the market can be a challenging task since there are dozens of fireproof gun safes on the market today.
Whether you are looking for the best fireproof long gun safe, the best cheap fireproof gun safe, or the best fireproof biometric gun safe, this post will guide you on picking the best fireproof gun safe without wasting your valuable time on research.
In this buying guide, we are going to take a look at gun safes that not only offer good burglary ratings but are also fireproof. Disasters such as home fires happen when least expected.
Sadly, when a house catches fire and there is no rapid response team to extinguish it, everything inside is reduced to ashes.
Top 6 Best Fireproof Gun Safes On the Market
That's where a fireproof gun safe comes in handy. A fireproof gun safe will not only keep your firearm and other valuables safe and locked up, but it will also keep them safe from the threat of fire.
In the process of looking for the best fireproof gun safes, you'll come across a multitude of models labeled fireproof.
Sadly, some models are written fireproof but they don't meet the standard fireproof rating. Without taking any more time, let's get right into some of the best fireproof gun safes.
1
SentrySafe EF4738E Fireproof Waterproof Safe – Best Fireproof Gun Safe On the Market Today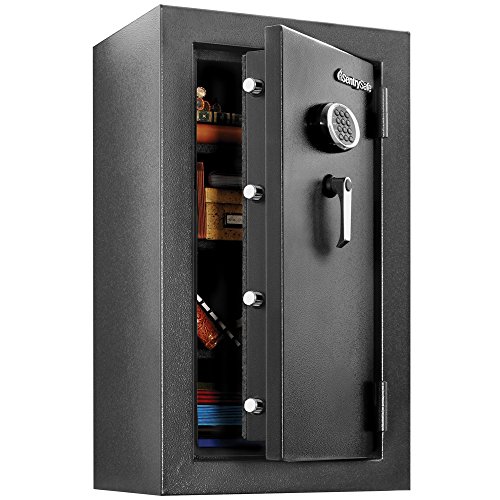 The SentrySafe EF4738E Fireproof Waterproof Safe is the best safe for storing small guns. It has a fireproof rating of 30 minutes at 1400°F. This might not be that much, but it's still worth it.
When it comes to waterproof properties, this gun safe has a solid 72 hours waterproof rating of up to 12 inches. This is enough to keep your valuables safe from water damage in case of flooding.
With its small and portable size, you can either use it at home or on the go. You can also use it in your office or slide it under your car seat.
With this gun safe, you get two locking mechanisms. A digital electronic lock and manual keys. While the electronic keypad provides quick and easy access, the 2 backup keys included come in handy when the digital keypad is inaccessible due to fire damage.
For unparalleled anti-theft protection, both its body and door are made from high-strength steel. The door is also pre-resistant for extra security.
Another impressive feature about this gun safe is the interior. It's carpeted to protect your firearm and other valuables against scratches or damages. It also has three shelves to help your keep your items in an orderly manner.
Features
Nicely carpeted interior
Backup keys
Executive fire-safe
Solid steel construction
Run-on 4 alkaline AA batteries
3 shelves for neat organization of valuables
Thicker door for advanced anti-theft protection
72 hours waterproof rating
2
Fortress Gun Fireproof Safe – Best Budget Fireproof Gun Safe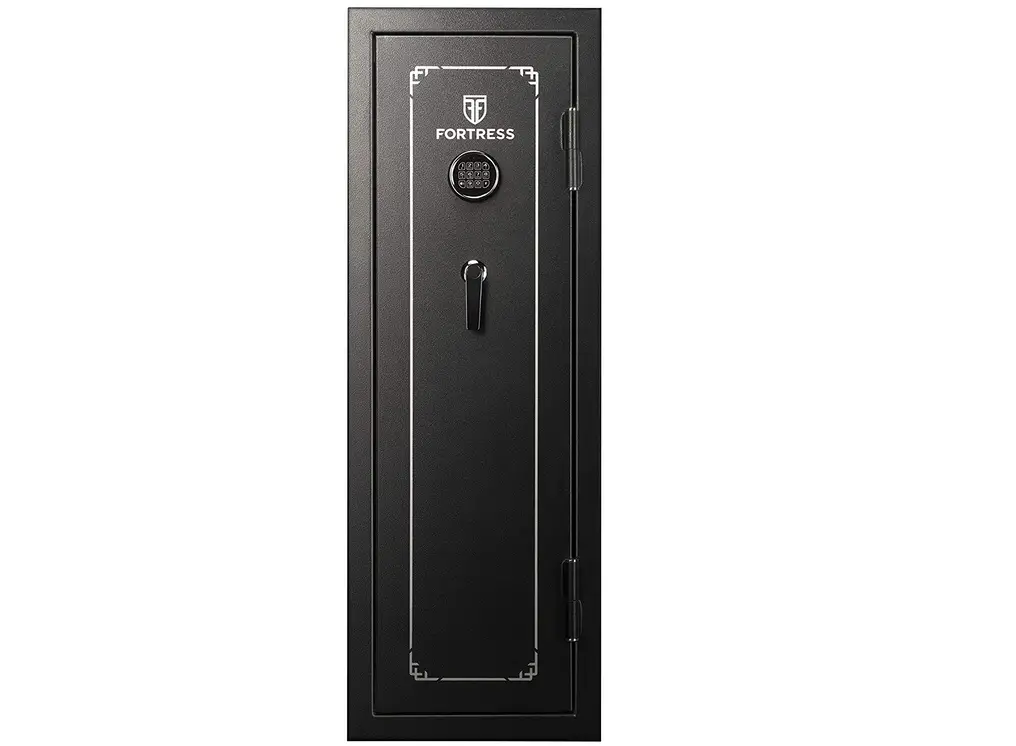 Apart from being fireproof, this gun safe has been designed to keep burglars at bay. For starters, you get two locking options; electronic or mechanical dial. The electronic keypad lock runs on 9V batteries to ensure rapid access when you get caught up in an emergency situation.
The gun safe also features heavy-duty steel construction for superior anti-theft protection. It also comes with a theft alarm system. For added protection, you can choose to mount it on the floor, wall or any other place that's convenient for you.
Another excellent feature found in this gun safe is in-built adjustable shelves. You can therefore customize the interior of your gun safe to suit your preference. Moreover, you can easily adjust the shelves and create more room for other valuables.
This gun safe is also backed by a lifetime warranty. You are therefore assured that you are getting a quality product.
Features
Theft alert alarm
30 minutes fireproof rating at 1200°F
Gray customizable interior with outside lever handle
Superb anti-theft protection
Solid steel construction
Two predrilled holes for mounting on the floor
180-degree opening
Budget-conscious
Patented Notch Bolt for extra security
Two locking options; electronic or mechanical dial
1
SentrySafe SFW082CTB Fireproof and Waterproof Safe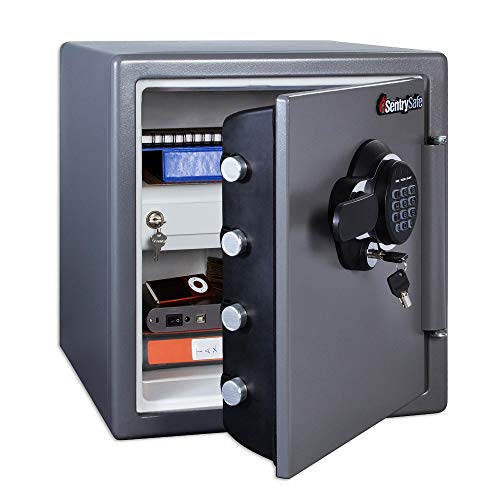 If you are looking for a compact gun safe that both fireproof and waterproof, SentrySafe SFW123GDCsafe is your best option.
This gun safe is UL certified to withstand 1-hour fire at 1700°F. This is more than the average 1500°F given for residential home fires. Additionally, it is ETL verified to endure a 15-foot fall during a fire accident and remain closed.
As for the waterproof properties, this safe is ETL verified to provide 24 hours protection in water up to 8 inches deep. This is also enough to protect your items against water damage in case of flooding or when the fire is being extinguished.
Access to this safe is through a digital keypad with 1-8 digit codes. The keypad itself is backlit to make it easily accessible at night. The safe also has a secondary lock and key for emergency backup.
For optimum anti-theft protection, this safe features solid 14-gauge steel construction. The door itself is reinforced and also features anti-pry hinge bars for added security. You can also bolt it down for extra security, but that would interfere with its waterproof properties
Features
Fireproof for 1 hour
Water protection for 24 hours in 5 inches of water
Easy to access digital lock
3 live locking bolts
Sturdy and durable steel construction
Adjustable tray for neat organization
Bolt down hardware for easy floor mounting
Pry-resistant hinge bar
Dial combination lock
3
SnapSafe Tall Titan Digital Modular Safe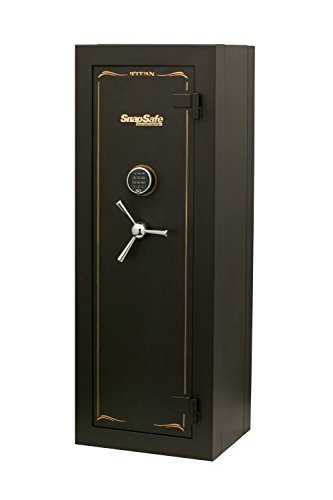 The SnapSafe Tall Titan Digital Modular Safe provides you with 60 minutes of fireproof protection at over 2300°F. Given that most residential home fires burn at 1500°F, this is more than enough.
This gun safe is completely modular. Its unique design makes it easy for you to assemble and disassemble it in a matter of seconds. You will certainly appreciate this feature if travel a lot are required to assemble and disassemble it regularly.
The spacious interior fits up to 12 long guns. Additionally, you'll find several adjustable shelves and pockets for keeping handguns and other firearms accessories. The interior is also powder coated and lined to make the safe look more stylish.
Another great feature about this digital gun safe is the rugged theft protection. It has 9 gauge steel walls and a pry-bar proof solid steel door, so no thief can access it. For extra anti-theft protection, the case is pre-drilled for easy floor mounting.
To access this safe, you can either use the electronic keypad or manual keys. Manual keys are great for emergency use while the electronic lock is ideal for quick and easy access.
Features
8, 1-inch steel locking bolts
Pry-bar resistant solid steel door
Heavy-duty 9-gauge steel construction
Powder-coated interior
2300°F 1 hour fire shield protection
9 slot full gun rack
Multiple adjustable shelves and pockets for neat organization
High-quality UL approved electric lock
Easy to assemble and disassemble
Pre-drilled holes for floor mounting
4
Steelwater Gun Safes AMSWS-610EL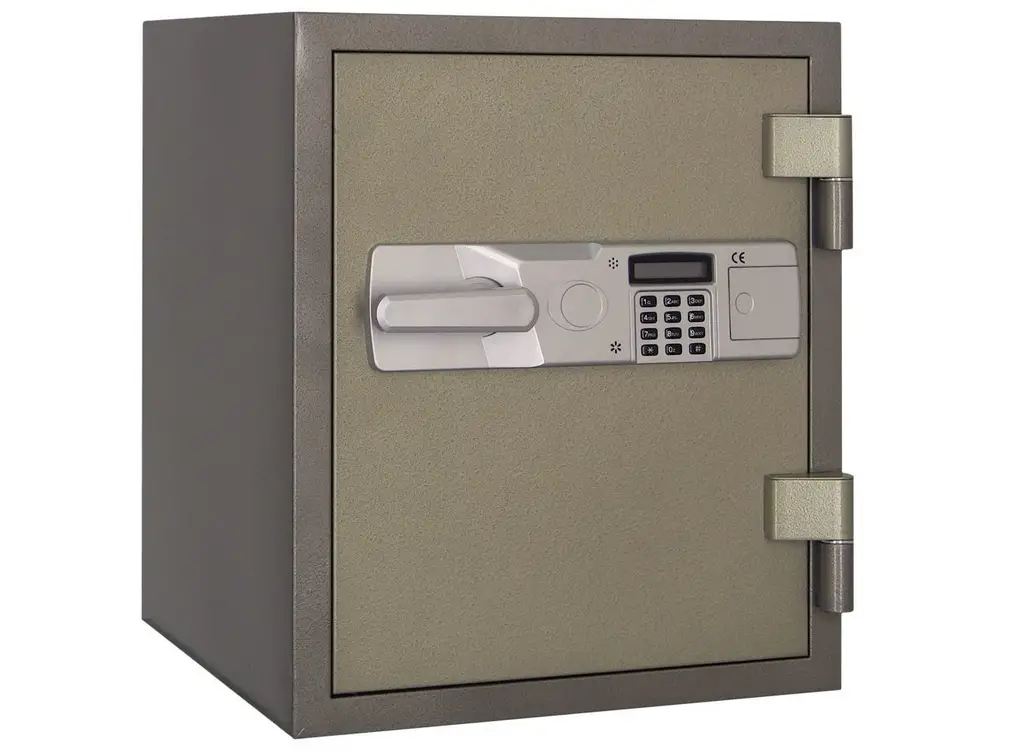 This is a high-quality gun safe has one of the highest fireproof ratings. Its fireproof rating is 2 hours at 1850°F. Given that most residential house fires burn at around 1500°F, this gun safe will survive the fire and keep your valuables safe.
Made from high-quality materials, this gun safe is virtually theft-proof. It is locked with 2, 1" live locking bolts combined with 2, 1-inch deadlocking bolts. These bolts provide unparalleled anti-theft performance.
It also features an electronic keypad that runs on 4AA batteries. On top of that, you get 4 reprogrammable number combinations in a 4-16 digit combination. You can also access it with keys in case the batteries run out of power.
Another impressive feature about this safe is the adjustable and removable platter. It not only maximizes your storage space but also enables you to keep all the items neatly organized. Features
2-hour fireproof rating at 1850°F
1 adjustable and removable shelf
Chrome-plated handle
4" composite door that opens at 180°
1 pre-drilled anchor hole
2 1" chrome plated active locking bolts
2 1" inactive locking bolts on the hinge side
Reasonably affordable
5
Stack-On A-18-MB-E-S Armorguard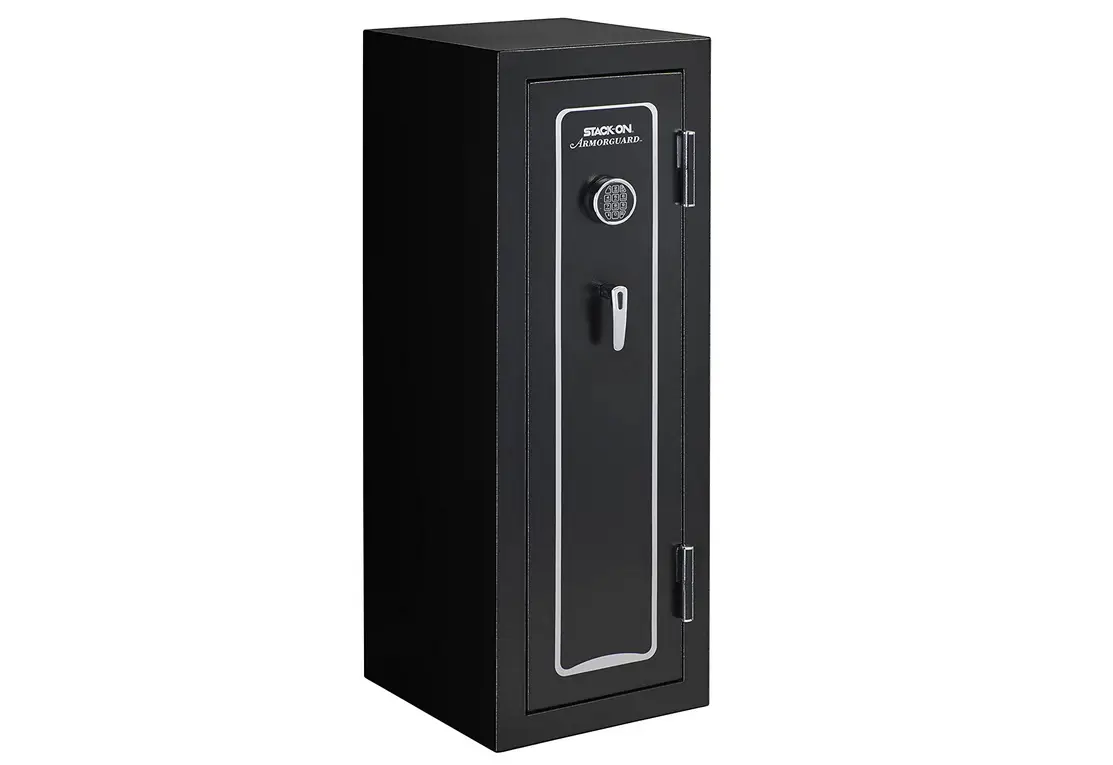 This gun safe comes with a spacious design to house your multiple valuables. It can fit up to 18 guns, or a combination of multiple guns and other valuables. It can also fit guns with scopes.
The safe is 1.5ft tall and has a carpeted interior to keep your valuables safe from scratches and other damages. Moreover, the interior has adjustable shelves. This way, you can customize the space to any design while ensuring neat organization of your valuables.
For optimum safety and rugged anti-theft security, the safe features heavy-duty solid steel construction and a reinforced steel door that is filled with retardant material.
Access to the safe is via an electronic keypad that runs on alkaline batteries. There is also a provision of a backup key that grants you access in case the fire burns down the keypad.
Features
1/2 hour fireproof rating at 1400°F
Spacious interior that fits up to 18 guns
Convertible interior with 105 locking bolts
Reinforced steel door filled with retardant material
Stylish carpeted interior
Adjustable shelves
Solid steel construction
Electronic keypad access
Backup keys included
6
Blue Dot Safes Second Amendment Fire-Resistant Gun Safe
If you are looking for a budget fireproof gun safe, you should go for the Blue Dot Second Amendment Gun Safe. This safe has been certified to provide 60 minutes fire protection at 1700°F. This means that its internal temperature won't surpass 350°F.
Both body and door are made from 12-gauge steel to provide reliable anti-theft protection. The door is also pry-resistant to prevent any forced entry.
Another impressive feature about this gun safe is the plush gray carpeting on the inside. This carpeting makes it look stylish while keeping your gun safe from scratches and other damages.
This safe is accessible via an electronic lock and a keypad system. The electronic lock is drill-resistant to prevent any drill attack. For added security, the safe comes with anchor holes for easy bolting on the floor.
Features
1 year limited warranty
Anchor holes for bolting the safe to the floor
Scratch-proof black powder coat
Drill proof hard plate lock
Certified 1-hour fire protection rating at 1700°F.
Sturdy 12-gauge steel construction
Plush gray interior carpeting
Factors to Consider When Buying the Best Fireproof Gun Safe
High-Quality Construction
Gun safes that are fireproof are made from advanced materials to withstand the fire for an extended period of time. While these materials will definitely add on the cost and weight of the gun safe, there are certainly worth the investment.
Fire Rating
The other important feature to look out for is the fire rating of the safe. The two important features to look out for is the maximum temperature the safe is designed to withstand as well as the length of time the gun safe can stay in those temperatures. Basically, the higher the fire rating, the more expensive the safe will be. A safe that withstands fire for either 30 or 60 minutes will do. It should also be able to withstand high temperatures between 1400°F and 2000°F.
Security Level
The security level in fireproof gun safes varies widely. Important features to look out for are drill-resistant plates, thicker gauge steel construction, pry-proof doors and deadbolts on all fours sides of the door.
Size
The storage capacity of your gun safe is the other important factor pay close attention to. You'll need to get a gun safe that's spacious enough to house all your guns and other valuables. There are three sizes of gun safes to choose from. The smallest models are made for pistols, medium-sized models that fit large handguns, and the large-sized gun safes which are ideal for gun owners with multiple firearms.
Interior
The interior of the fireproof gun safe should not be overlooked. Most fireproof gun cases come with an upholstered interior which makes them look stylish and nice. Moreover, the upholstered interior helps you keep your firearm and valuables safe from scratches and damages. Another essential feature to have is adjustable shelves and door pockets. These two features come in handy at keeping your gun safe neatly organized.
FAQs
What gun safe fireproof rating is the best?
First of all, there is no fireproof safe that achieves 100% fire resistance. What these safes do is provide fire resistance for a specific period of time.
With that on mind, the average fireproof rating that's considered good enough is 30 minutes at above 1500°F. This is because most home fires burn with a heat of about 1500°F.
Are fireproof safes worth the investment?
Yes. A fireproof gun safe will not only safeguard your firearm and valuables in case of fire but also keep them safe from theft. Some fireproof gun safes are also waterproof, so they offer water protection in case of flooding.
Conclusion
It's our hope that this buying guide has provided you with the important information you needed about the best fireproof gun safes.
All of the guns safes mentioned above are high-quality products with a high fireproof rating. Take time and compare the different features each product offers, then go for the model that suits your needs.