This is a comprehensive Athlon ares etr 4.5 30×56 review that covers the pros, cons of Athlon Ares ETR 4.5 30×56 riflescope.
The Athlon 4.5-30×56 Riflescope is loaded with features accommodating various shooting disciplines to cater to consumer needs.
It has a locking windage turret that eliminates concerns about accidental adjustments in the field.
The true precision zero stop provides a hard, repeatable return to zero, ensuring your shot is on target every time.
The Ares ETR first focal plane riflescope is made with extra-low dispersion lenses that ensure you get the sharpest, most colorful image possible. This is by reducing chromatic aberration for sharp images.
In addition, the Ares ETR is built a rugged 34mm one-piece tube, offering 110 MOA total elevation adjustment. It features a high-precision erector system and stainless steel turret design for consistent and repeatable adjustments from top to bottom.
Athlon Ares ETR 4.5 30×56 Review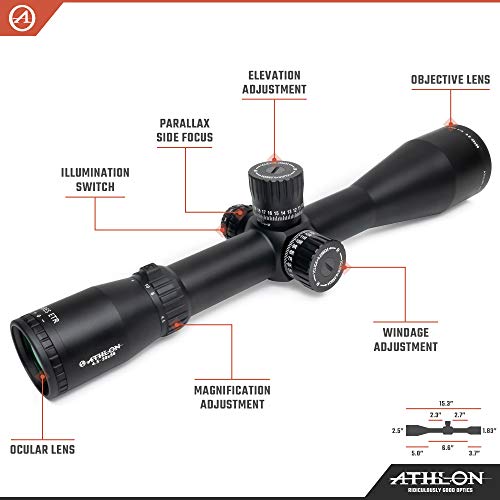 The first focal plane reticle stays valid at all power settings; hence you can fully utilize the specially designed reticle that reduces or increases in size along with your target as you zoom in or out. As a result, the reticle offers quick target engagement at low power while offering precise holdover positions with finer details.
With the heat-treated one-piece tube construction, the riflescope has extra strength over multi-piece tubes and is better with waterproofing performance. As a result, this ETR riflescope is suitable for different occasions, including big game hunting and extreme long-range shooting, at a very reasonable price.
Features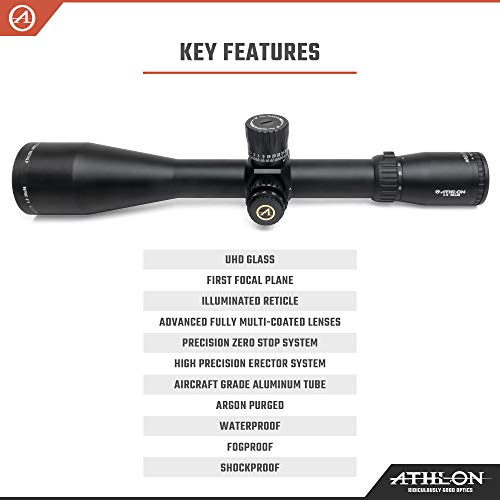 The Athlon Ares ETR 4.5 30×56 riflescope has ED (extra-low dispersion glass), significantly reducing chromatic aberration to offer the most bright and sharp images with true color reproduction.
It has an illuminated reticle for greater visibility during dusk and dawn and when in a low ambient light environment
The glass-etched reticle provides excellent backing support for complex reticle design and offers excellent durability and much higher shock resistance to recoil
The scope comes with fully multicoated optics that effectively reduce light reflection and increase the transmission of light, resulting in a brighter image than normal single coated lenses
The XPL Coating provides extra protection on the exterior lenses from dirt, oil, and scratches
Athlon Ares ETR 4.5 30×56 riflescope comes with a precision zero stop system that allows you to lock down your zero position and dial back to it with a sharp and precise stop right at your zero mark even you are turning it in pitch-dark or blindfolded.
It has a high precision erector system processed by high precision CNC machine with +/- 0.0001mm tolerance level to provide you the most accurate power settings and smoothest magnification change
The locking windage turret feature allows you to push down to lock the turret and pull up to turn. It prevents accidental turning of the windage knob from being turned accidentally and keeps your zero all the time.
Pros
Athlon Ares ETR 4.5 30×56 riflescope is lightweight
Athlon Ares ETR 4.5 30×56 riflescope is easy to use
Cons
Conclusion
The Athlon Ares ETR 4.5 30×56 riflescope comprises a 6061 T6 aircraft-grade aluminum tube that provides exceptional strength and superior mechanical integrity. In addition, it ensures that the riflescope can withstand rough use and the ruggedness of the shooting environment.
It is made waterproof to keep it safe in the harshest weather conditions or if accidentally dropped in water. Inertia gas is used for argon purging, with bigger size molecules to keep any moisture out of the tube for better waterproofing and thermal stability. This means that the riflescope is also fog proof, allowing you to immediately engage your target even with a rapid temperature change.
Furthermore, a robust mechanical system has been used with special designs on both control and erector systems, offering the ultimate recoil resistance to withstand 1000G recoil 1000 times.