The Vortex Crossfire II 2-7×32 Rifle Scout Scope is a reliable and practical scope in the Crossfire series.
It was designed to be very effective than other scopes within the same price range. The scope includes a fast-focus eyepiece, large eye-relief, fully multi-coated lenses, and capped turrets. The turrets have a reset capability.
Why is Vortex Crossfire II 2-7×32 Popular?
32 mm objective lens
Affordable price compared to other scopes of the same category.
Second focal plane reticle
24cm eye relief
Vortex Crossfire II 2 7×32 Review ( Rimfire, Long Eye, Scout Scope)

If you want to purchase this scope, stick to the end, as we'll discuss the scope specifications, best use case, and the features this scope has to offer.
Scopes Specifications

Magnification: 2-7x

Objective Lens Diameter: 32 mm

Eye Relief: 9.45 inches

Field of View: 18.3-5.2 ft/100 yds

Tube Size: 1 inch

Turret Style: Capped

Adjustment Graduation: 1/4 MOA

Travel Per Rotation: 15 MOA

Max Elevation Adjustment: 60 MOA

Max Windage Adjustment: 60 MOA

Parallax Setting: 100 yards

Length: 11.52 inches

Weight: 12 oz

 
Most Outstanding Feature of Vortex Crossfire II 2-7×32 Rifle Scout Scope
The most outstanding feature of the Vortex Crossfire II 2-7×32 is that it offers you a large eye-relief of about 24 centimeters. Most scopes offer an eye relief of about 8 to 9 centimeters. This means you can mount it in front of your rifle.
This excellent feature allows you to focus with both eyes, one eye being supported by the magnification of the scope. It requires a bit of practice, but this can help you to get a perfect shot.
The scope is O-ring seal to ensure that the scope is fog-proof, dustproof, and waterproof.
Best Use Cases
The Vortex Crossfire II 2-7×32 Scout Scope is ideal for hunting, big game hunting, and close to medium range target shooting.
It offers a 24 cm eye relief, which makes front mounting possible.
The single-piece tube maximizes alignment for improved accuracy. It also ensures optimum visual performance and a waterproof experience.
You can also use it for tactical shooting.
Vortex Crossfire II 2 7×32 Scout Scope Review (Detailed Review)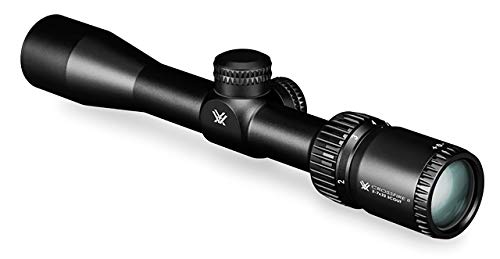 This scope includes a Second Focal Plane reticle. This means that the reticle will stay the same size when zooming in or out. This is different from a First Focal Plane reticle that is large when zooming in and small when zooming out.
The scope comes with a high-quality multicoated lens that makes it an exceptional budget scope with a stellar performance.
Let's look at some of the features offered by this scope.
All Features
The V-Plex reticle is suitable for a wide range of hunting applications.
It offers a 2-7 zoom range.
The 1-inch diameter tube offers a versatile blend of adjustment, size, and weight for hunting applications.
The outer casing is made from aircraft-grade aluminum for strength and rigidity.
The O-ring seals prevent moisture, dust, and debris from penetrating into the scope.
The nitrogen gas purging prevents internal fogging in any weather.
It has a rugged construction that can withstand recoil and impact.
It has a hard-anodized finish that makes it durable. It also provides a low-glare matte surface that conceals your shooting position.
It includes capped turrets.
It includes a lifetime warranty.
Our Verdict
The Vortex Crossfire II 2-7×32 Rifle Scout Scope is made by Vortex, which guarantees that it is a good working product. It has a detailed finish that will blend in well with your rifle.
Additionally, it also includes a V-Plex reticle that is popular for hunting applications.
We recommend this scope for hunters who shoot with a scout gun.
If you have a higher budget, we don't recommend this scope since there are better scopes that can deliver a better long-range shooting experience.
Video Review
The following is one of the best video reviews we have watched and would like to share with you to help you make an informed choice if you decide to go ahead and buy this scope.