Are you in the market for the best rifle bore scope for the money? You are in the right place. In this comprehensive buying guide, we will share some of the best options to help you make a well-informed purchase.
When servicing a gun, the complicated parts overlap, and the internal system cannot be viewed ultimately. When the pipeline gets stopped, users, on the other hand, are frequently unaware of the situation. As small items fall, they cannot be seen or removed.
Luckily, with the borescope, all of these issues will be resolved for a better experience. The endoscope can be used for a variety of purposes. It is practical and reliable
It may help you see confined locations that are otherwise hidden. Almost everyone now considers such a device to be a must-have.
5 Best Rifle Borescopes
So, how can you choose the best rifle borescope among a plethora of options on the market?
The borescopes listed below are both convenient and valuable. They are designed and operated to satisfy the needs of everyone while providing a variety of benefits.
Furthermore, they have an appealing appearance instead of the utilitarian appearance of other tools, ensuring that users have the most satisfactory possible experience with these kickass items.
Choosing the best rifle borescope can be difficult due to the numerous elements. We've got you covered.
We will give you the most in-depth reviews of the top five best rifle borescopes in this guide so you can make an informed decision based on this information.
Let us get started.
1
Teslong Rifle Bore Scope –  Overall Best Rifle Bore Scope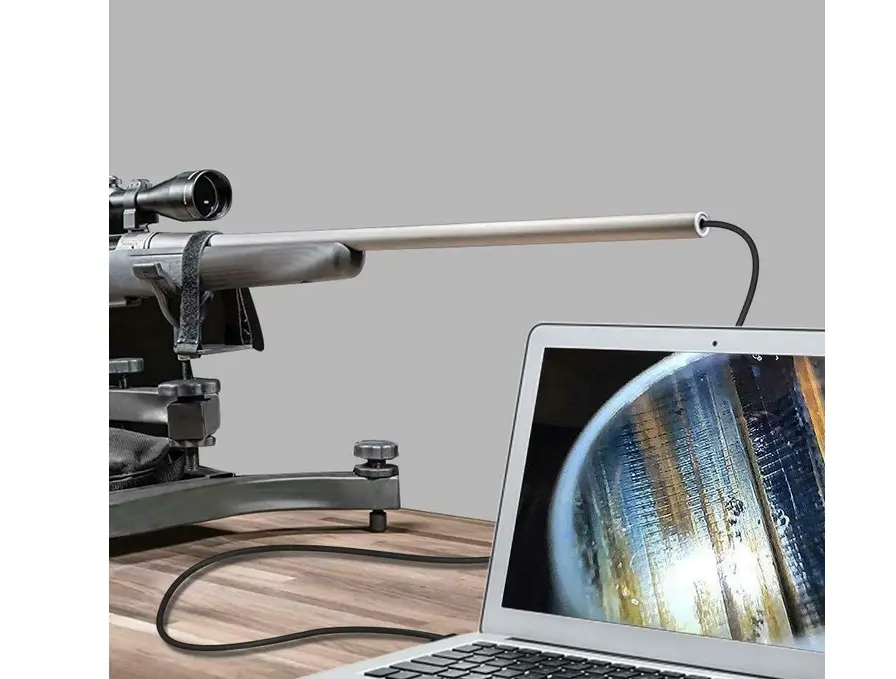 The Teslong Bore Scope is the most advanced scope currently available, combining technology with smart design. This has a camera with a short focus and a fully detachable viewing mirror on the side.
This allows you to check for fouling, chamber damage, rifling wear, tool markings, throat erosion, and barrel cleanliness. The camera has a diameter of 0.2 inches, which allows it to fit easily into the barrel. This can be used on a variety of caliber barrels.
Please do not be anxious about using it because it is incredibly simple. This comes with a 40-inch extension cable. The user will be able to save films and photographs to their phone or computer using the software app.
The most significant advantage is that you do not need to switch from the barrel to the muzzle to do an examination. Do not pass up this fantastic opportunity.
Key Features
Diameter of 0.2 inches
40-inch extension cable
Adjustable, detachable, 90° side-view mirror
2
Lyman Borecam – Second Best Rifle Bore Scope

Lyman is most known for its reloading equipment like one of the best brass tumbler for reloading, but the addition of a borescope to the firearms market was a welcome addition. The Lyman Borecam is a specialized borescope as well as an endoscope.
It is made for weapons, and it allows you to inspect bores as small as.20 caliber and as large as you require. A stiff camera constructed into a solid rod is the Lyman Borecam.
This makes it simple to handle and direct. The 20-inch camera's external section is marked with 1-inch hash markings. This is useful for pinpointing problem spots and determining their exact location within the barrel.
The Lyman Borecam is equipped with a high-definition video camera and an integrated light. The light has three brightness settings, making it simple to identify trouble areas.
The Borecame also has a 3.5-inch digital display that shows you what is within your barrel in high definition and ease.
The display also features an SD slot and can capture images of your bore by pressing a button. After that, they can be moved to a laptop for more convenient viewing.
The Lyman Borecam is well-made, functional, and long-lasting. In conclusion, this is one of the most advanced cameras and rifle borescopes available.
Key Features
5-inch digital display
Marked with 1-inch hash markings
SD slot
3
DEPSTECH Wireless Endoscope
The DEPSTECH Endoscope product is a good choice if you want a borescope that can be used with a variety of devices. This borescope, which has a wireless connection, is compatible with Android 5+ smartphones and iPhones running iOS 9+.
In addition, this device comes with an 11.5-foot cable that is incredibly bendable and can reach every corner of the user's home. As a result, this product is appropriate for iPhone users who want to perform an inspection.
Another advantage of this product is how simple it is to use. All you have to do now is download and install the app on your phones.
Plus, aside from connecting to your mobile phones via WiFi, you will not need an extra cable to get the most out of the device. You're now ready to start the application and the inspection.
A high-quality camera with high-resolution photos is also included with this borescope. The camera does a particularly good job of capturing a clear image or close-range video with HD resolution. You will also be given a variety of resolution options to choose from.
The device is designed for safe use underwater thanks to its high-tech waterproof feature. This tool is also suitable for a variety of circumstances, including gloomy atmospheres or even watery and damp locations, since it comes with six adjustable LED lights and an 8.4mm diameter probe.
Key Features
5-foot cable
Six adjustable LED lights
4mm diameter probe
4
GEECR Rifle Bore Scope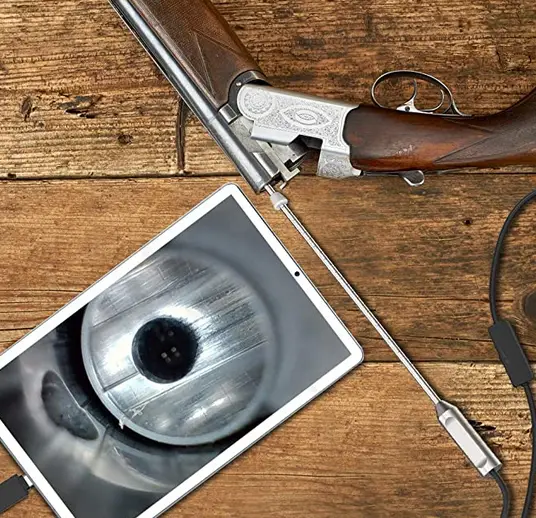 With this freshly improved borescope, you can easily inspect the barrel of your rifle. The GEECR rifle bore scope device produces crisp, distortion-free photographs to assist you in inspecting the condition of your barrel.
The mini camera is 0.2 inches long and is designed for barrels with a caliber of.223 or above. You only need to connect the USB c connection to your computer and utilize an appropriate program to get started.
The probe will provide a close-up view of the inside of your firearm's barrel. It encompasses the entire space between the chamber and the muzzle.
It is necessary to have strong lighting to obtain a nice vision, and these features led to lights with six different settings. Things become a lot easier as a result of this.
The manufacturer has increased the length of the probe to 40 inches for the latest firearms, which will work with all rifles. In no way does this borescope let you down.
Key Features
Semi-rigid body
40-inch length and 5mm diameter camera probe
Adjustable camera
5
Teslong 0.21inch Micro Inspection Camera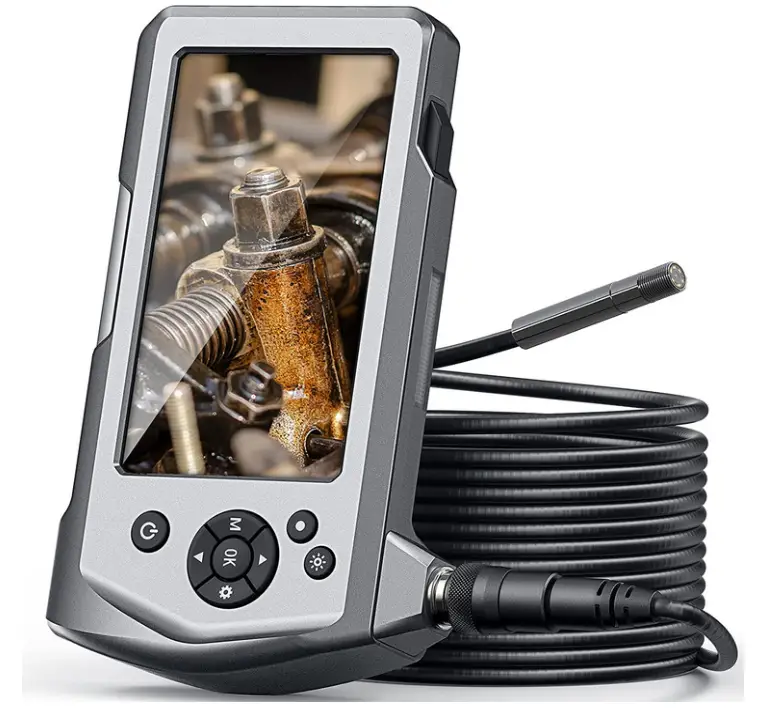 The Teslong micro inspection camera is the first name that comes to mind when you think of the best rifle borescopes. This is a standard endoscope with a diameter of 5.5mm. This is quite important because it can fit through tight openings.
This device has a 3.5-inch LCD display and a 2600mAh rechargeable battery.
The good news is that this device does not require any specific software to work. It is ready to use as soon as you unpack it. The probe is waterproof and rainproof, which is a significant benefit.
This has an anti-glare feature that stops the camera from overexposing itself. The camera also has six different settings for adjusting the light intensity.
Unlike most other borescopes, this one is quite portable. This can be neatly stored in a storage box when not in use. A toolbox constructed of durable plastic that may be easily carried around is included in the sales package.
Get this immediately and treat your pistol with the care it deserves.
Key Features
5-inch LCD display
2600mAh rechargeable battery
Diameter of 5.5mm
Important Aspects To Consider Before Purchasing the Best Borescope For Your Rifle
Finding an excellent borescope necessitates locating a device that is more than a camera and a screen. If you think about the following factors, you'll be more likely to choose a perfect tool.
Magnification
Borescopes have a nearly infinite reach, so you don't have to refocus as often. If you need to figure out the magnification, follow this simple rule, which applies to both rigid and flexible borescopes: the closer the object is to the lens, the higher the magnification.
Cable Length
Of course, different borescopes will have varying cable lengths. Longer cables are normally unnecessary for rifle borescope applications, as most of these gadgets have enough length to fit conventional rifle barrels. Still, double-check to make sure you do not pick up a borescope that will not fit down the barrel of your rifle.
If you wish to utilize the equipment for additional tasks or investigations around the house, you can acquire a borescope with extended length.
Flexibility
To begin, think about how adaptable a borescope is. Because some borescopes' wires and cameras are quite inflexible, they cannot move around very well inside a restricted space. They are better for traveling back and forth rather than moving from side to side. This is just Acceptable. This is perfectly acceptable for rifle maintenance – after all, a rifle barrel is just a single long tube! Borescopes with more sturdy construction are also less expensive, which is a bonus.
On the other hand, other rifle borescopes are a little more adaptable. They feature cords that allow them to wind up and down or to the left and right. If you have a larger (or broader) rifle barrel, or if you want to tilt the camera to get a better look at a specific piece of debris or corrosion point, they are a bit better.
Flexible borescopes can be used for several home renovation chores in addition to rifles. For example, you can inspect the inside of your kitchen sink pipes with a flexible borescope.
Waterproofing
Lastly, some borescopes include waterproof cameras, allowing you to utilize them in wet conditions without fear of fried electrical components. This is an excellent benefit, and it also means you may use the borescope for the home maintenance tasks we mentioned before.
This is unnecessary for every borescope, but it is essential to consider, especially if you decide between two excellent borescopes.
Conclusion
It appears to be an unavoidable conclusion that a practical personal kit must include rifle borescopes. People increasingly rely on rifle borescopes for the best experience with their phones or digital devices, especially in a technologically-based world.
As a result, rifle borescopes were created to meet the demand for people to upgrade their technological capabilities.
Hopefully, you will be able to make your final selection based on our in-depth reviews and helpful suggestions.
Essentially, every product has its own set of advantages and disadvantages. As a result, you should think about what you want to achieve before selecting the best rifle borescope.
We hope that this post helped you to find a reliable model that will deliver value for the money you spend.