If you are looking for a reliable mid-budget red dot sight, you will understand why you should consider this Primary Arms Red Dot sight after reading this – Primary Arms SLX Red Dot Review. The SLX is one of the reputable brands in the market. The brand has continued to create new products while improving the older ones to meet the growing demands of users. This SLX red dot sight features many features and offers up to an estimated 50,000 hours of battery life.
The microdot, removable base, advanced sight (MD-RB-AD) comes with an included CR2032 battery that powers an ultra-sharp 2 MOA dot. In addition, it is designed with fully multi-coated lenses and an ultra-low profile emitter to provide a clean sight picture with minimal lens tint.
Primary Arms SLX Red Dot Review
The Primary Arms SLX Advanced Rotary Knob Compact Red Dot Sight has eleven brightness settings which are controlled by the rotary knob on the right side. The first two settings are suitable for the night vision units and cannot be seen by the naked eye. The other settings are daylight bright.
With the red dot turned off, the illumination knob physically stops at "0". This sight also features a 2 MOA dot, which means that it covers about 2 inches of a target at 100 yards giving you the best accuracy with great speed.
There are magnifiers behind the microdot unit that make the sight picture almost similar to a traditional magnified scope. Additionally, the dot always stays the same size relative to the target; magnification makes it appear larger.
This red dot sight also comes with a removable 1913 MIL-STD Picatinny mount, bikini lens covers for glass protection, and a manual.
Features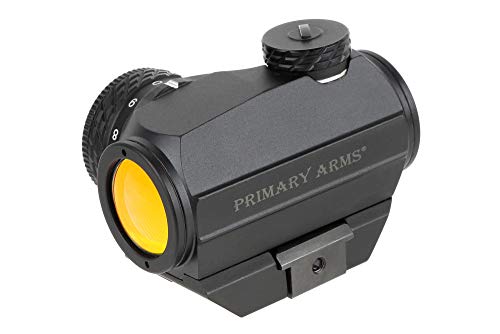 This SLX red dot sight is made with a 6061 aluminum housing with a Type II anodized matte black finish, which makes it solid and sturdy enough to withstand heavy recoil.
The waterproofing features in this sight have been advanced for maximum waterproofing.
The turret caps are made of aluminum instead of plastic and tighten down around the O-rings until metal-to-metal contact with the scope body. The turret caps can be removed and used to adjust windage and elevation.
The scope features an angled front lens which reflects the crisp 2 MOA dot projected by the emitter into the eye of the user
It has 11 illumination settings and approximate 50,000-hour battery life at a medium brightness setting
In addition to the aluminum housing, the red dot sight has aluminum turret caps that tighten around O-rings for protection from water and fog
It is supported by a lifetime warranty for manufacturer defects, materials, and quality, as well as normal wear and tear
Pros
ThePrimary Arms SLX red dot sight is made with a very good construction that is durable and weatherproof
The adjustment turrets are great, and the click to click adjustments are positive and with a great feel
The sight has clear lenses for improved accuracy
Cons
This red dot sign is a bit more costly compared to other delicate red dot sights in the market
Conclusion
The Primary Arms SLX red dot sight is one of a kind, with compatibility with different rifles and mounts. It is made with solid materials and advanced features for a long time of outstanding performance. Even with its slightly high price, this red dot sight is a true reflection of the saying 'you get what you pay for.'
You can choose from 11 different brightness settings for day and night vision, which is also a huge plus.
Primary Arms SLX Red Dot Review [Video]