This is a comprehensive Olight Mini review that covers the pros, cons of OLIGHT Baldr Mini 600 Lumen Pistol Light and Green Laser Combo.
The OLIGHT Baldr Mini is an ultra-compact combo featuring a white light and green beam. It integrates the PL-Mini 2 and the accuracy of the BALDR Pro, making the perfect complete combo. It comes with two types of rail adapters which can easily be fixed on both Glock and Picatinny rails.
Olight Mini Review
With the included adjustable sliding rail, you can easily adjust the light forward and backward into your most preferred position. The laser combo delivers 600 lumens of bright white light, along with a highly visible green beam for greater accuracy. This is despite being at a compact form factor.
The combo allows you to choose between the white light, green beam, and the green beam, white light combination. In addition, it is powered by a built-in 3.7V 230mAh lithium polymer battery, which can be charged through the OLIGHT signature magnetic charging port for extended runtime. It also has a quick attach and release mount and a slim switch making it extremely easy to manipulate for everyone.
Features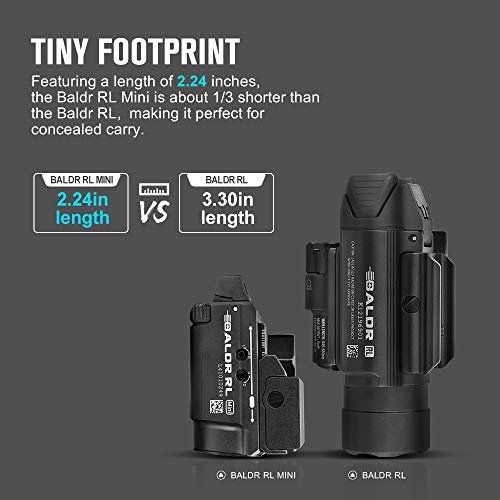 The Baldr mini is a high-performance cool white LED and green laser beam of class IIIA <5mw with a safe laser output. It comes equipped with numerous features for the best performance, including;
It is highly adaptable to Glock and Picatinny rails.
The light can also be moved back and forth on the sliding rail to the preferred position, making it even more compatible.
The tool comes with a quick attach/detach rail mount that is extremely easy to install.
It is powered by a lithium battery that is built-in and rechargeable. In addition, it has a low battery indicator to alert you when it's time to recharge.
The pistol comes at a small size that offers both a highly visible green beam and 600 lumens of white light with a throw of 130 meters.
With the addition of a green beam, there is much greater accuracy and more options to select among white light only, green beam, or both combined.
Additionally, it has dual rear switches that allow smooth momentary-on or constant-on activation by either hand with equal ease.
Pros
It has a small size that is easy t handle; length- 2.24 in/57 mm, head diameter- 1.29 in/32.8 mm, and body diameter- 1.41 in/35.8 mm.
It has a lightweight of 3.07oz/ 87g (battery included)
Cons
The locking mechanism has no cover hence may activate accidentally
Conclusion
This ultra-compact combo is easy to use and handle, thanks to its small size and friendly features. It can easily be personified to suit your preferences with the sliding rail, allowing easy movement forward and backward.
You will be able to easily mount the mini combo with the two included rail adaptors. These fit the Glock or Picatinny rails for reliability. The included battery can be recharged when need be to provide an increased working time. In addition, it conveniently has a signal to indicate when it has low power. What's more, it offers a choice of different light and beam combinations, making it a favorite for many.