Are you having a hard time trying to find the best Leupold scope for 308 caliber? Read on, as we will review two of the best Leupold riflescopes for the .308 rifle. The main aim of this post is to help you narrow down your search.
It is worth mentioning that many shooters prefer .308 rifles to AR-15 because they offer excellent performance. The .308 rifle is a classic and if you own one, you are probably looking for a way to get the most out of it by using a scope.
Best Leupold Scope For 308 Review
Today, we are going to look at the top two best Leupold riflescopes on the market for a .308. The .308 rifle is a great option for hunting and target shooting applications.
Best Leupold Scopes For 308 Comparison Table
1

Leupold VX-3i 3.5-10x40mm

 




2

Leupold VX-5HD 3-15x44mm

 




3

Leupold Mark 3HD 3-9x40mm

 




4

Leupold VX-Freedom 3-9x40mm Scope

 




5

Leupold 110688 VX-R Rifle Scope

 
Choosing the Best Leupold Scope for 308
The recoil on this gun is not too bad, and most users can handle it. However, if you're a novice user, the recoil might startle you a bit this is why you need a good scope with the best eye relief.
The best Leupold riflescope for a .308 should have a large objective lens. This is perfect for gathering light than a smaller one. You should be able to glide smoothly across all the magnification levels.
Let us look at the best options on the market today.
1
Leupold VX-3i 3.5-10x40mm – Best Leupold Scope for 308 [Best Overall]
Scopes Specifications

 
Magnification: 3.5-10X

Power Variability: Variable

Objective Diameter: 40 mm

Length/Weight/Tube Diameter: 12.6 inches/12.6 ounces/1 inch

Field of View: 29.8 – 11 feet/100 yards

Eye Relief/Exit Pupil: 4.4 – 3.6 inches/11.43 – 4 mm

Reticle: Duplex, Boone & Crockett

Adjustment Info: 1/4 MOA/Click

Optics Coatings: Fully Multi-Coated

Finish: Black Matte

Waterproof/Shockproof: Yes/Yes

Parallax Setting: 150 yards

Illuminated Reticle: No

Mounting Rings Included: No
The Leupold VX-3i 3.5-10x40mm is considered to be the best overall Leupold scope for the .308 rifle. It is exceptionally durable and has been crafted using aircraft-quality aluminum to ensure its longevity even when used under punishing conditions.
This scope has been tested thoroughly on extreme weather conditions. It is 100% waterproof, shockproof, and fog proof. This makes it an ideal scope for hunting, target practice, or tactical shooting.
The diamond coating on the lens allows for excellent light transmission while giving you abrasion protection. You will enjoy the precision ¼ MOA finger click adjustments on this riflescope.
It is very easy to adjust for windage and elevation by 52 MOA.  This is sufficiently large for long-range shots if you are not aiming too far into the distance. This allows you to get the most out of your rifle.
The other important feature is the twilight max light management system included in the scope. This feature can add up to 20 minutes of shooting light while reducing glare. This is very useful for hunters who are always looking for the best option.
Its lightweight design and the generous 3.7 to 4.4 inches relief will impress you.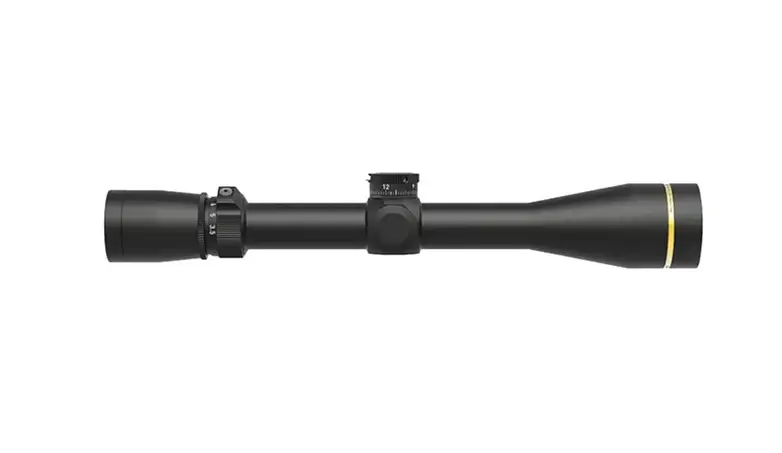 Pros
It features a lightweight design allowing you to easily transport it
It includes Ion-assist lens coating for higher light transmission
It provides you with a generous eye relief to reduce any chance of scope bite when mounting
It features durable construction that will last for a long time
It is waterproof, fog proof, and shockproof.
Cons
It features a small field of view
2
Leupold VX-5HD 3-15x44mm – Best Leupold Scope for 308 [ Best Value]
Scopes Specifications

Magnification: 3x – 15x

Objective Lens Diameter: 44mm

Eye Relief: 3.7-3.82 in

Field of View: 38.3 ft (3x); 7.9 ft (15x)

Tube Size: 30mm

Focal Plane: Rear (second focal plane)

Max Elevation Adjustment: 75 MOA

Max Windage Adjustment: 75 MOA

Parallax Settings: 55 yd – ∞

Length: 13.53 in

Weight: 19.7 oz
The Leupold VX-5HD 3-15x44mm is specifically designed for hunters and long range shooters. This scope is definitely worth the price because it is packed with very many premium features.
The most outstanding feature of this scope is that it includes high quality optics. It includes a guard-ion hydrophobic coating on the lens to make it extremely durable, scratch-resistant, and sheds water, dirt, and fingerprints. This ensures that your visibility is high when using your gun.
It is also important to note that this scope features a Fine Duplex CDS reticle. You will also love the custom-dial system and the light management system.
The 30mm diameter tube allows a lot of light into the scope. This means that it will offer you clear vision even in low lighting situations.
The magnification level is perfect for hunting as it provides you with clear vision across all the magnification levels. The finger-adjustable click windage and elevation dials are very easy to use.
It is worth mentioning that the eye relief is a solid 3.7 to 3.82 inches and the field of view ranges from 7.9 feet to 38.3 feet at 100 yards. This will help to avoid semi-circular cuts.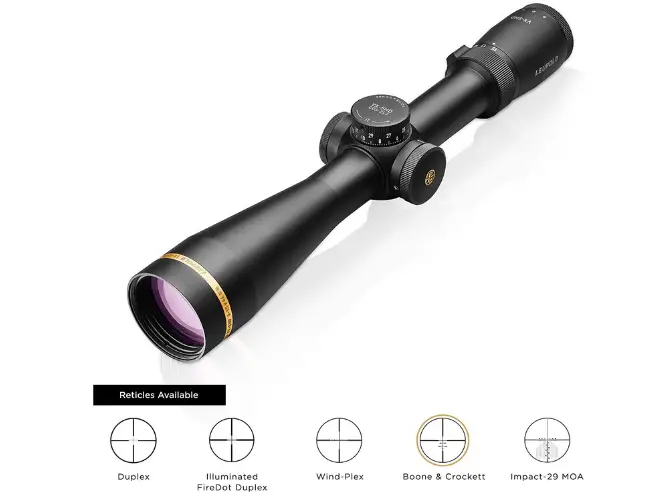 Pros
It offers you generous eye relief especially if you crank the magnification up to maximum
It includes a duplex reticle with thicker posts on the outside and narrower posts in the center of the field of vision
It includes a custom dial system for elevation
It can be used even in extreme weather conditions because it is waterproof and fog proof
It includes a size focus parallax adjustment
Cons
It is a bit expensive, but the features included are worth the price
Conclusion
By now, we are sure that you have selected the best Leupold scope for your .308 rifle.
The ones included on this list are made from high-quality materials to greatly improve your experience with a .308 rifle. They will not let you down when it comes to clarity, precision, or ease of adjustments.