This is a comprehensive Gosky 20 60×60 HD Spotting Scope Review that covers the pros, cons of Gosky 20 60×60 HD Spotting Scope.
Gosky spotting scope is designed to provide a powerful zoom magnification range from 20X to 60X power, catering to all your shooting needs by allowing you to lock onto your target and zoom in for more detail.
It comes with a smartphone digiscoping adapter that allows you to take photos and videos of what you have observed and a tripod that allows rotation of the 45-degree angled eyepiece to a sideways position, providing adjustable, stable, and comfortable observation from any angle.
Gosky 20 60×60 HD Spotting Scope Review
The included tripod and smartphone digiscoping adapter not only provide you a wide HD optics zoom vision but also a close-up view of far-off sceneries in a display on your phone's screen.
For easy carrying and maintenance of the scope, a carry case, cleaning cloth, eyepiece, and lens protection covers are also included.
The Gosky spotting scope has advanced fully multi-coated 60mm green film objective lenses that provide a large field of view at 50-110ft/1000 yards.
It also has quality BAK4 Porro prism optics that increases light transmission for bright, clear, high-contrast images even in low-light conditions.
This scope is the perfect tool to carry along when going for target shooting, bird watching, camping, scenery, wildlife watching, hiking, outdoor sporting, archery, hunting, astronomical observation, and more outdoor activities.
Features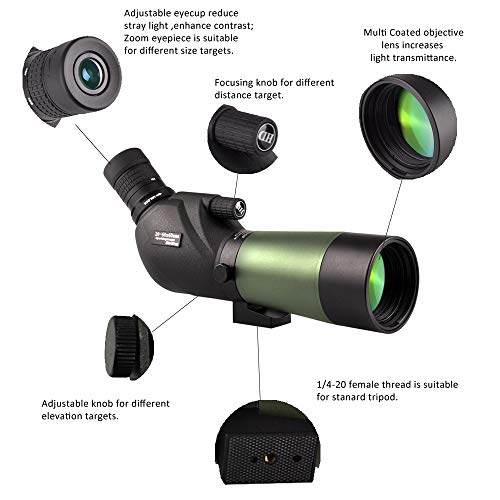 It is made of a durable framework and high-quality rubber armor for non-slip, shock-proof grip, and durable external protection
It is O-ring sealed to keep off moisture, dust, and debris from the interior of the scope for reliable performance in all environments
It is also Nitrogen gas-filled for waterproofing; hence can comfortably be used in all weather conditions
It is shock-proof and withstands rugged use in the field
O-ring seals prevent Nitrogen gas purging delivers further waterproof performance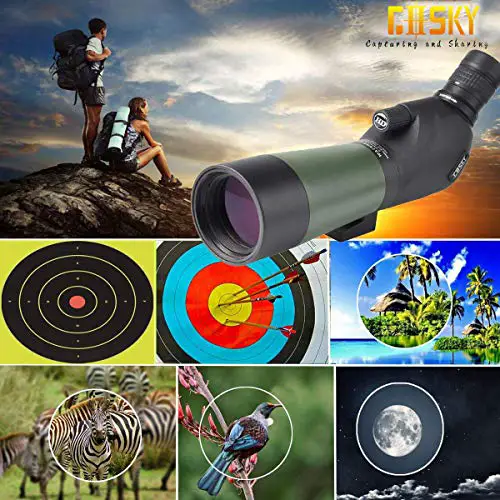 The scope offers a variable 20x to 60x zoom magnification and dynamic lens focusing system for easy zooming in on a target
It is made with a fully multi-coated glass lens that provides a more precise, brighter, and higher-contrast view
The scope's 60mm large objective lens offers maximum light-gathering power, high resolution, and a large field of view range
It has a 45 degree angled eyepiece for more comfortable viewing
The scope also has a retractable sunshade that can be stretched out to protect the eyepiece and help in glare reduction
It comes with a digiscoping cell phone adapter for taking videos and images from a distant
Pros
This spotting scope fits all standard tripods and other accessories with 1/4″-20 threads
It is waterproof, and fog proof hence can be used in all weather conditions without compromise on image quality and accuracy
Very affordable
Cons
The spotting scope is medium-range and might be a limitation for anyone looking for long-range viewing (way over 100 yards)
Conclusion
The Gosky 20-60×60 HD Spotting Scope is a spot-on high-quality scope that offers you a wide range of usage. You can even use it with your phone for digiscoping. This allows you to take images of targets that are far away with your phone.
The spotting scope is very well performing for its price, with a durable build that ensures a long time of quality performance and allows you to enjoy your outdoor activity in all weather. It is waterproof and fog proof!