The best tactical chest rig provides a low-profile minimalist way to carry tactical equipment and ammunition, without giving you the bulk of a full vest.
The best tactical chest rig also provides a lighter and more convenient alternative to heavy tactical vests or plate carriers. They can accommodate all your mags, combat gear and equipment and whatever else you may need for your time outdoors.
Chest rigs are easier to put on, within a matter of seconds, allowing you to always respond to emergencies with the utmost readiness. There are different chest rigs from many brands in the market today.
They come in a variety of colors, sizes, looks, models, functionality, costs, and more. This makes it even harder for you to choose the best tactical chest rig for your use.
Below are the best tactical chest rig options for you.
Top 10 Best Tactical Chest Rigs
1
Helikon-Tex Range Line, Training Mini Rig #1) Best Tactical Chest Rig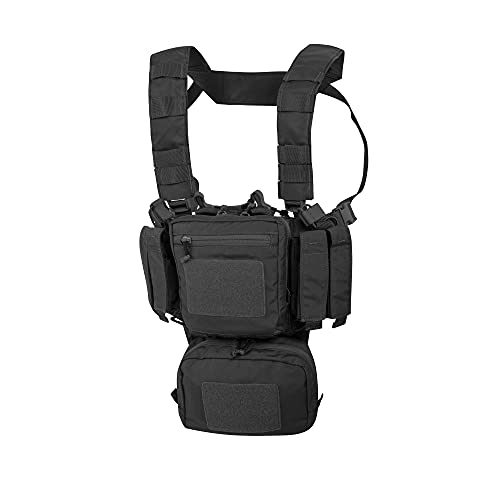 The Helikon-Tex Range Line, Training Mini Rig is made with an extremely durable 100%Cordura 500D fabric, with numerous pockets for carbine and pistol magazines, a utility pouch for tackers or markers, exchangeable inserts and even a small hanging pouch for a first aid kit. The 1.65pounds rig features superior quality YKK zippers, buckle closure and a universal, removable, adjustable H-strap harness for a secure fit. It has three Velcro ID panels; on the main pouch, med insert pouch and at the back on the harness.
The Helikon rig is designed with a Double Rifle Magazine Insert with two AR/AK magazines and the main pouch with an internal organizer and zippered mesh pocket. It has four fixed pouches for handgun magazines, multitool, and a flashlight. There is a spacious central Cargo pocket, capable of taking Pistol Holder Insert.  This is our first pick for the best tactical chest rig.
2
RAPDOM Tactical Molle Chest Rigs – #2 ) Best Tactical Chest Rig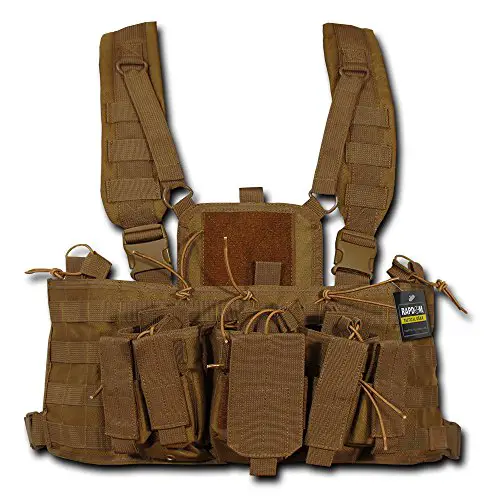 RAPDOM Tactical Molle Chest Rigs are made of 100% nylon material, with Bungee pull tabs and heavy Molle webbing. The build quality is about the same as Condor, but there is no hydration bladder pocket on these rigs. The stitching is strong for maximum durability. These rigs feature quick-release buckles and padded cross shoulder straps that ensure a secure fit as well as easy on and off.
The Rapdom Molle Chest Rig features six pistol mag pouches, two concealed mag pouches, three double stack mag pouches reinforced with bungee pull tabs, and one removable kangaroo map pouch. Another god option for the best tactical chest rig.
3
Condor Outdoor Modular Chest Set – #3 ) Best Tactical Chest Rig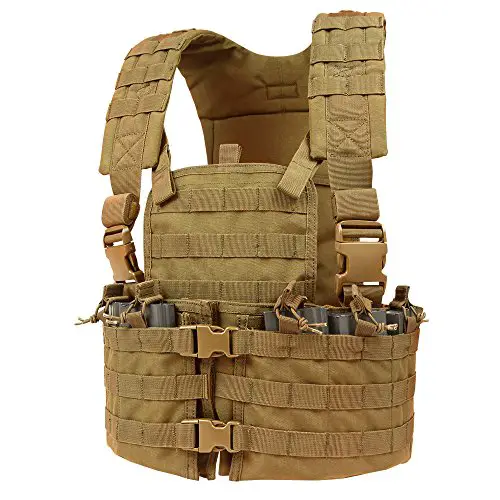 The Condor Modular Chest Set is made to offer 7 built-in mag pouches and 3 internal mesh pockets. It has heavyweight webbing for modular attachments as well as an internal pocket with webbing for modular attachments. The chest set has an adjustable and removable chest platform, and an adjustable waist to offer a perfect fit for different body sizes. The chest set also has padded shoulder straps for comfort, as well as a built-in hydration carrier. The chest set size is adjustable from Large to X-Large. Excellent choice as the best tactical chest rig.
4
Condor MCR6-498 Tactical & Duty Equipment, Coyote Brown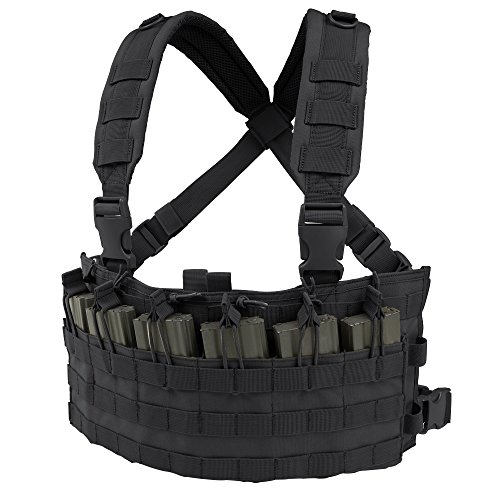 Condor's MCR6 Rapid Assault Chest Rig has a lightweight design that evenly distributes weight across your back and shoulders when carrying a large amount of gear. It has padded back straps that help distribute weight for a comfortable fit and it also has a hook and loop closure system (with four elastic loops- two on each side) and D-ring attachment points as well. The chest rig allows you to comfortably carry up to six mags at one go. This considerable best tactical chest rig is made of a rugged nylon construction that is durable and reliable, featuring Swivel Lockstep push release buckles and pivot points for maximum maneuverability and functionality.
This chest rig features heavy-duty webbing that allows for several modular attachments. The bungee release system and six open-top pouches made for quick reloading are designed to enhance flexibility and rapid mobility. With a map pocket and hidden interior mesh pocket, you can store your gadgets and equipment for easy movement. There is also a front pouch with a hook and loop panel inside for more storage.
5
Condor Recon Chest Rig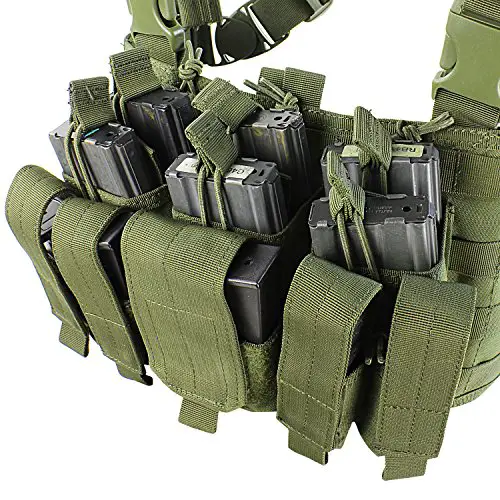 The Condor Recon Chest Rig features a genuine Cryer Precision Multicam material,
and comes with three built-in stacker/Kangaroo type mag pouches that can accommodate up to six M4 mag and six pistols mag. It allows the user to quickly and seamlessly access the mags for a faster reload. This considerable best tactical chest rig has a Swivel push-button release buckle for easy on and off, as well as a padded cross-back shoulder strap with webbing and D-ring for safety and comfort.
This Condor chest rig has adjustable/removable flaps on the pistol pouches to allow the user to carry a knife, multi-tool, or other small accessories. There is a front pocket pouch with a hook and loop panel inside and two open-top mag pouches (one on each side) for extra storage.  The additional mesh pocket on the interior is convenient for concealed carrying with minimal fatigue. One size fits most with an adjustable waist size: 30″- 60″.
6
5.11 Tactical VTAC LBE Utility Vest, Customizable and Adjustable, Chest Pocket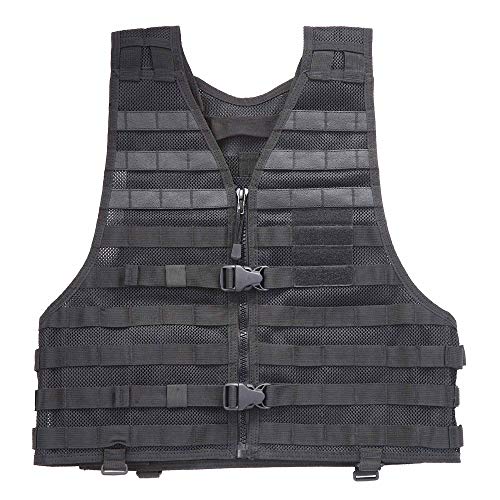 Providing a high-quality fabric construction, the 5.11 Tactical VTAC LBE Utility Vest is practically made from stiffened mesh nylon. It offers an outstanding structure and resilience while remaining lightweight and breathable for maximum user comfort. The vest is equipped with high-impact clips that ensure secure fastening of the garment, allowing you to move freely and effortlessly. It is designed to accommodate various individual shapes and sizes, dress code, and functionality requirements with an adjustable girth and length.
More so, this vest is designed with a pocket on the chest for storing documents or phones and a hydration pocket at the rear, allowing you to easily access your hunting, range, or tactical gear during an emergency. It has a hidden grab handle, facilitating emergency exfiltration, and has additional high-impact fastening clips to ensure secure fitting. It is made compatible with 5.11 SlickStick and MOLLE, delivering complete tactical kit customization. It is suitable for law enforcement officers, sportsmen, and outdoor enthusiasts for tactical use.
7
YAKEDA Tactical Vest Outdoor Ultra-Light Breathable Combat Training Vest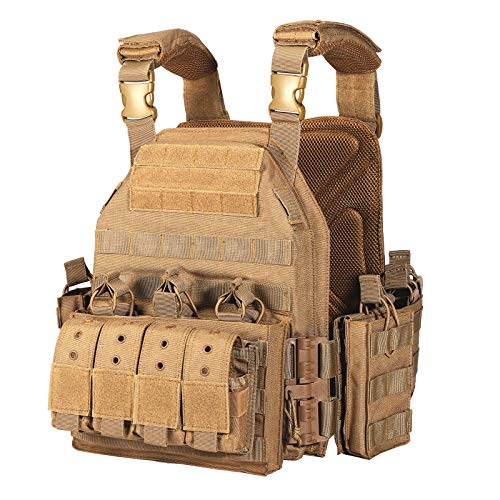 YAKEDA Tactical Vest is made from a comfortable high-quality 600D Polyester material that is strong and durable enough for long-time use, making it ideal for outdoor travel, mountaineering, fashion, business, outdoor activity and more. It has a mesh design that is breathable and light, ideal for long time use.
The vest comes in an adjustable size to fit different adult body sizes. It can be adjusted using the adjustable shoulder and side straps, and also has a belt design that allows you to adjust it to fit your shoulder and waist size according to your needs for full freedom of movement. The maximum waist is 57 inches (145cm) while the smallest waist is 35 inches (89CM), the longest length is 22.5 inches (57cm) while the shortest length is 20.5 inches (52cm).
The YAKEDA vest has plenty removable pouches and hook-and-loop closure, drain holes and elastic excellent plugin systems, hence very well organized and ideal for the CS Game, Army fan, mountaineering, fashion, business, outdoors activity, target shooting, law enforcement, air soft&paint ball, and cosplay of counter strike game.
8
abcGoodefg Radio Chest Harness Chest Front Pack Pouch Holster Vest Rig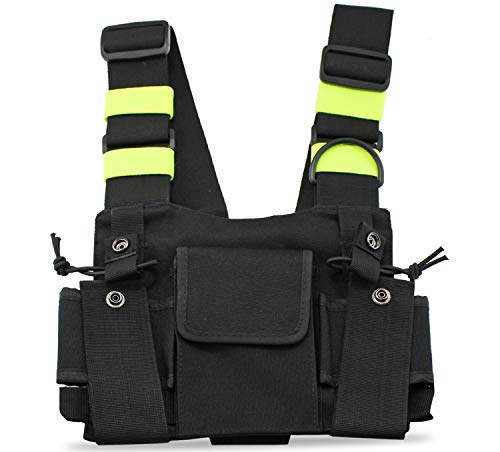 The abcGoodefg Radio Chest Harness Chest Vest Rig comprises of a durable material sewing with high-quality nylon and adjustable shoulder straps, ideal for both men and women. The rig is suitable for different occasions including the police; convenient carrying walkie-talkie equipment, production workshop, construction sites and other dangerous places. This great best tactical chest rig is most preferred for survival, hiking, biking, work, school, camping, fishing, traveling, and recreation.
Having been originally designed for ski patrols and mountain rescue, this radio harness has one size that fits all and will readily adjust to hold any sized radio snugly to your chest with no need for multiple Velcro straps or buckles. It has adjustable shoulder straps, radio pouches and a unique suspension system that makes sure that the harness does not swing or hang. The vertical orientation of the radio offers better radio reception, extends antenna life, and reduced chances of chest injury during a fall.
The rig has a nice pocket in the middle where you can store lots of things including a store pager, flashlight, pens, emergency response guide and multiple pairs of gloves. It also has two small pouches at the front that are suitable for pens or other gadgets, and a lapel pocket with zips in inside for delicate items such as mobile phones, paper and documents.
9
abcGoodefg Tactical Chest Rig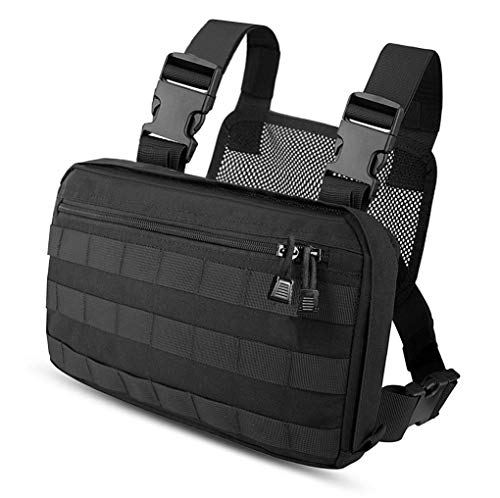 This abcGoodefg Tactical Chest Rig is trendy and fashionable, yet providing adequate storage space. It is made of high-quality Nylon fabric and is well stitched to prevent fading, cracking, peeling or flaking. The rig is wear-resistant, dirt resistant and water-resistant. It has a lightweight and easily portable design, with a larger capacity (11.81″x1.97″x9.45") and multiple compartments. It is ideal for radios and small hardware stores.
The large capacity exellent best tactical chest rig multi-pocket design can accommodate your phone, radios, GPS, pens, paper and documents, tissue, ID and bank card, bank power, earphones, USB, food, flashlight, emergency response guide and several pairs of gloves. The rig comes with adjustable nylon shoulder straps and a mesh back which fits most sizes of men and women. It also has 2-way high-quality zippers allowing you to open up completely with ease. The buckle prevents bouncing and swinging during airsoft, hunting, military, army training, paintball, shooting games, hiking, fishing and other outdoor activities with radio.
10
CILLA Fashion Chest Front Bag Pouch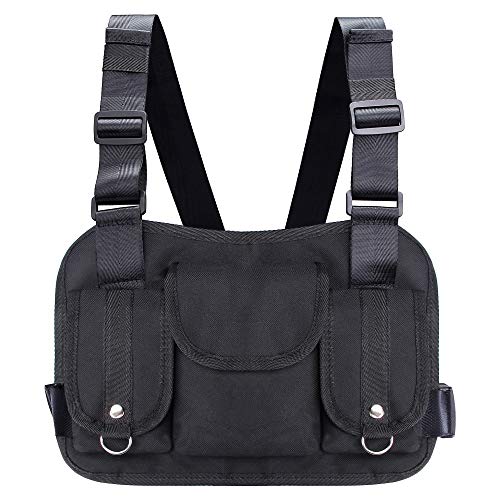 CILLA Fashion Chest Front Bag Pouch is made of a durable waterproof nylon material, which makes it very solid and perfect for outdoor adventure, wilderness survival, hunting, fishing, shooting, and even climbing. This fashion chest rig features two adjustable nylon straps that allow you to adjust the size to fit your body depending on what you are wearing. The unique unisex design is ideal for both men and women.
The CILLA chest rig bag is made with 3 inner pockets and 1 big zipper pocket in the tactical rig. The big pocket can accommodate a smartphone as big as an iPhone 7 plus/8/x/, while the other two smaller ones can be used for storage of radios, walkie talkie and other tactical equipment. The zipper pocket is convenient for the safe storage of important items and gear.
This chest rig has a lightweight of o.35 kilograms and has dimensions of 11.8 x 9.1 x1.2 inches (30*23*3cm).
Conclusion
Other than safe storage of tactical essentials and personal effects used during tactical activities, the best chest rig provides chest safety to the wearer in case of an accident. The best chest rigs are made with special features that prevent swinging and hanging, allowing for a secure fit which translates to more safety in case of an accident. Your chest rig should be made of good quality breathable materials for maximum comfort when wearing them. Feel free to try any of the above tactical chest rigs!