In the last post, we looked at the top 10+ best tactical watches where we recommended the best affordable tactical watch for different tactical environments. In this post, I would like to share with you the best combat trousers that you can use along with the best tactical watch for a successful outdoor tactical adventure.
Combat trousers are some of the largest available products in the market today.
Varying in styles, sizes, colors, and even prices, you will have a hard time choosing what it is you want.
However, the good news is that from denim pants to work pants or even short pants, no pants are quite as versatile or as tough as a pair of combat trousers.
Best Combat Trousers Buying Guide
Combat/tactical pants are designed to withstand harsh environments and can even protect the wearer from harmful materials.
There are simple minimalist designs as well as versions that have pockets for all your essentials.
The best combat trousers are made of lightweight, durable material, which is typically a mix of poly cotton ripstop and polyester.
They also offer a great amount of zippered pockets for the storage of gear and personal items.
They also feature reinforcements in high-stress areas for durability and comfort.
Top 12 Best Combat Trousers
1
TRU-SPEC Men's Lightweight 24-7 Pant
These are the overall best combat trousers that are made of 65% Polyester and 35% Cotton rip-stop fabrics, the TRU-SPEC Men's Lightweight 24-7 Pants are among the best fitting and most comfortable tactical pants on the market.
They are designed with an engineered dimensional fit and are DWR water repellent coated making them perfect for on-duty or off-duty wear.
The pants feature a comfortable slider waistband with 2″ wide belt loops and two deep cargo pockets designed with hook & loop closures to hold a concealed weapon.
The reinforced knees are designed with special pockets for inserting pads for extra comfort while the back pockets are also expandable and have hook & loop closures. These pants have a brass YKK zipper.
2
Dickies Men's Tactical Ripstop Cargo Pant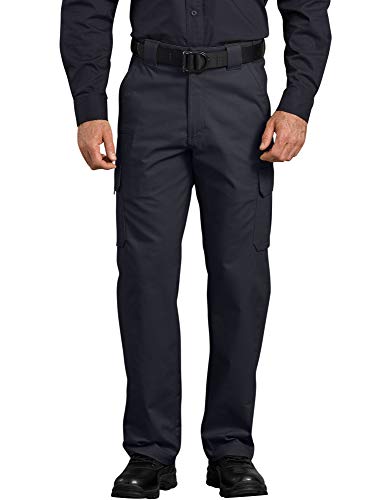 Dickies Men's Tactical Ripstop Cargo Pants are made of a low profile design, comprising 61% Polyester, 32% Cotton, and 7% Elasterell-P, making them a great pick for the best combat trousers.
They feature a safe zipper closure and are machine washable. The pants will stretch depending on the size of the wearer for superior comfort and ease of movement. The materials are durable and water repellent, and comes with wide tunnel belt loops and dickies metal tack buttons for safety.
The pants feature L-shape front pockets for clipping your knife, front leg cell phone pocket, side cargo pocket with a bellow, and pleat for increased storage. There is a hidden magazine pocket inside the side cargo pocket.
For sizing, the letters UL appearing after a waist size indicate that the pants have a 39-inch unhemmed inseam.
3
Propper Men's Hlx Pant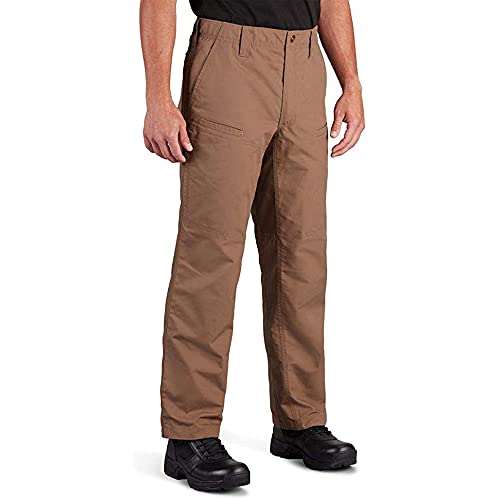 Propper Men's Hlx Pants are made with 67% Polyester and 33% Cotton materials that are machine washable a good choice for the best combat trousers.
The rugged and durable construction can stand up to the field, the range as well as the great outdoors.
These pants are engineered for performance with a gusseted crotch that reduces blowouts and rips, and a water-resistant coating to keep off dirt and moisture.
You will enjoy a great range of motion with soft-touch poly-cotton fabric, flexible stretch waist, and a versatile design suitable for different activities.
These Propper pants are designed with eight strategically placed pockets for all your EDC essentials such as flashlight, knife, pen, notebook, or multi-tool.
The flat front design is low profile and ideal for a wide variety of accessions including the range, to dinner, office, hiking, outdoors, and traveling.
4
Vertx Men's Travail Tactical Pants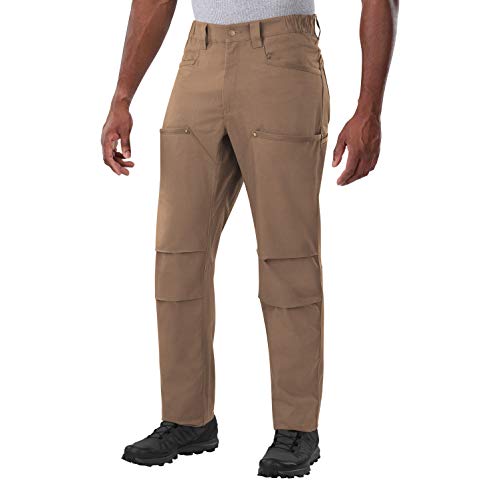 The Vertx Men's Travail Tactical Pants have a comfortable low-profile yet durable styling with a relaxed waistband and breathable lightweight canvas fabric that allows you to move from strenuous work to downtime, keeping you comfortable all through.
The pants come with 16 strategically located pockets including internal low-ride pockets, drop-in front thigh pockets, side utility pockets, wallet traps, and mini stash pockets for maximum storage, perfect pick for the best combat trousers. They have a zip closure system and feature articulated knees and a gusseted crotch for enhanced mobility.
For durability, these pants have double-stitched seams, cuff kick plates, and 500D CORDURA pocket reinforcements to withstand the toughest situations. The front and side pockets are constructed of soft highly breathable mesh for added comfort.
5
BLACKHAWK Men's Tac Life Pants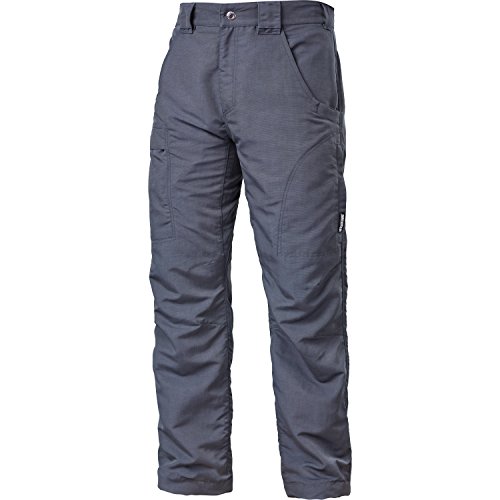 The BLACKHAWK Men's Tac Life Pants offer unmatched comfort and durability great option as the best combat trousers made of Nylon.
They are made of 100% Nylon Ottoman, with a Teflon Shield+ fabric protector to repel water, oil, and stains.
They have seven multi-purpose low-profile pockets, including a reinforced knife pocket in each of the front hip pockets. Included double front belt loops can handle clips and badges, and they have articulated knees for maximizing movements. The pants are also machine washable.
6
Under Armour Storm Tactical Duty Pants Men's Navy Blue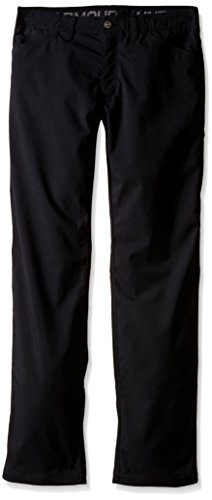 Under Armour Storm Tactical Duty Pants were designed to be comfortable for all-day wear, with a lightweight woven canvas fabric and a stretch-engineered waistband. Considerably the most comfortable best combat trousers in the market today.
These tactical pants are water repellent, hence ideal for keeping you safe during occasional downpours.
Other features include off-set belt loops for better holster placement and 8 roomy pockets including secure cargo pockets, a dedicated knife pocket on the right, and a hidden internal back pocket for stashing your valuables.
The pants are highly durable, comprising 65% polyester and 35% cotton ripstop fabric, which ensures superior moisture absorption to keep you cool, dry, and comfortable.
They have a generous cut, gusseted crotch, articulated knees, and triple-needle stitching for enhanced durability and mobility. Drawstring hems ensure versatility. They are easy to machine wash and dry.
7
UF Pro Striker HT Combat Pants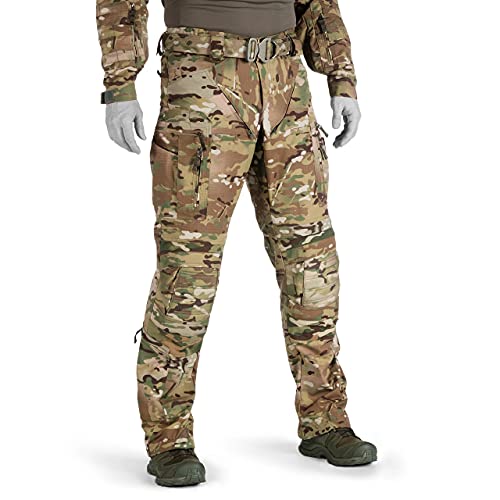 The UF Pro Striker HT Combat Pants are designed to help you stay cool under pressure. These are the best combat trousers with state or art innovation to keep you protected from a harsh combat environment.
They are made with a special airflow system, state-of-the-art knee protection, high-class fabric, and component combinations.
They also feature mesh-lined openings in the groin area, as well as opening knee pad pockets that generate a cooling airflow in the upper leg and groin area.
The Striker HT Combat Pants are made with a lightweight PolyCotton or NyCo Ripstop fabric that offers excellent breathability and comfort.
They are equipped with a total of 14 pockets that are highly functional providing great storage capacity and accessibility.
The big side pockets provide horizontal and vertical access to the main cargo area and inner compartments, while a spacious lower leg pocket can be tightened for the safety of the contents.
8
5.11 Men's Taclite Pro Tactical Pants, Style 74273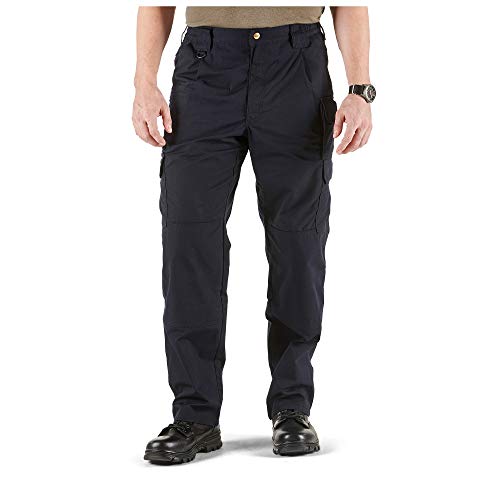 5.11 Taclite Pro pants are made of 65% Polyester and 35% cotton material which is lightweight, with a fully gusseted crotch that allows for maximum flexible movement. The excellent tactical choice for the best combat trousers with great design.
They have pockets strategically positioned all over the pants for ease of access and storage, including cargo pockets on both sides of the thighs and a phone pocket located all over the pants for easy access even when in action.
There is a front knife pocket that accommodates a 5.11" knife. The phone/magazine and knife pocket are reinforced with 100% Cordura Nylon for durability. There is also a signature slash pocket in the front along with the strap.
The pants' non-fading poly/cotton rip-stop fabric, maximizes your productivity by providing the best quality and protection in a neat, clean, and professional style.
The pants are treated with an HT Teflon Wear-resistant finish that is resistant to soil, stain, and liquids. They have thick belt loops for maximum support for large belts that can carry the weight of a sidearm, cuffs, or other tactical equipment.
Included YKK zippers, Prym snaps, horn buttons, and clip loop on the front of the Taclite Pro Pant offer protection and a good fit. The 5.11 Taclite Pro Pants are available in more than 9 colors among them Black, Coyote, TDU Green, Tundra, TDU Khaki, and Dark Navy.
9
Under Armour Men's Tactical Patrol Pants II
Under Armour Men's Tactical Patrol Pants II, Ultimate Black (008)/Ultimate Black, 32/30The Under Armour Men's Tactical Patrol Pants are made of ultra-durable rip-stop fabric that is well-tailored allowing plenty of room for flexible movement.
This material is technologically designed (UA Storm technology) to be waterproof while at the same time being breathable enough to keep you dry and comfortable in all weather. They are cut and designed long to fit over your tactical or work boots.
The tactical pants feature an anti-odor technology that prevents the occurrence and growth of odor-causing microbes.
They have a stretchable waistband for superior mobility and comfort as well as offset belt loops that help you with the good placement of your holster.
The knees and crotch are reinforced to provide superior durability. Dual cargo pockets with internal mag holders. They are easy to wash and quick to dry.
10
CQR Men's Tactical Pants, Water Repellent Ripstop Cargo Pants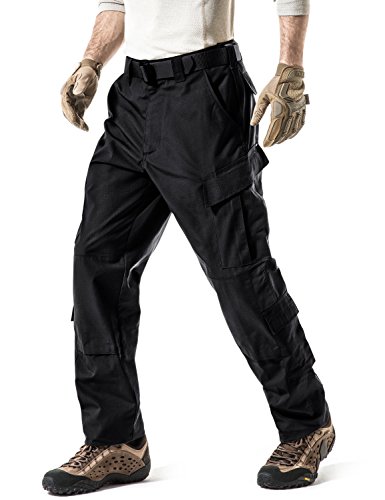 CQR men's tactical pants are developed with good quality 65% polyester and 35% cotton materials with carefully crafted stitching and ergonomic designs, for maximum comfort and flexibility.
They have a touch of military and law enforcement design making them long-lasting and tolerant to intense situations.
They are made with duratex fabric that is repellant to dirt, liquids, and others hence maintaining your stylish look through the entire time. This material does not shrink, fade, or wrinkle and is wear-resistant thus enhanced the durability of the trousers.
The CQR men's tactical pants feature a high-strength quality metal alloy button and zipper with a durable mounted stopper for secure closure.
They have eight multi-purpose cargo pockets that provide deep and secure storage including a side secure Velcro secured pocket that offers simple storage of magazine clips and other small items.
The hatched back pocket is designed for easy access even when wearing gloves. The pants have a partially elastic waistband with a black nickel-plated D-Ring that provides easy hook-on installation of tactical accessories. You have 35 different color options to choose from.
11
5.11 Tactical Men's Stryke Operator Uniform Pants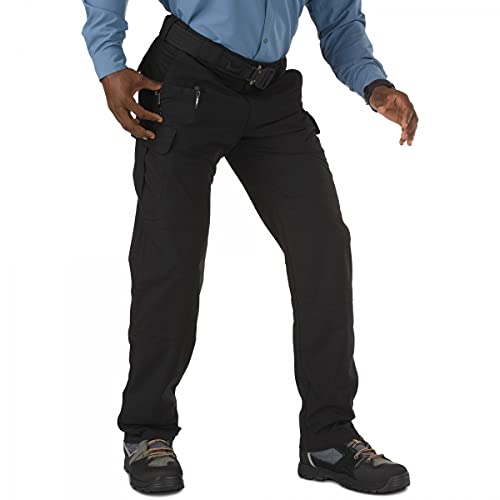 These 5.11 tactical pants are made with innovative fabrics and thoughtful designs for the most demanding of activities.
They comprise of premium patent-pending two-way flex-tac mechanical stretch fabric that is strong and comfortable and is finished with Teflon treatment which is waterproof, to keep away stains, liquids, and soil.
The 65% Polyester/ 35% Cotton fabric is breathable and comfortable for all-day wear.
They are designed with 12 pockets that include front pockets sized for EDC items and double-deep cargo pockets that provide ample storage space for mission-critical items.
The pants have reinforcements in strategic places, a self-adjusting tunnel waistband, bar tacking at major seams and stress points as well as a fully gusseted inseam for firm flexibility with reduced chances of wear and rips.
Other features include a zip closure and articulated knees with a kneepad and inside inseam for extra comfort.
They are easy to clean and dry and come in 12 color options- TDU Green, Charcoal, Black, Khaki, Stone, Storm, Battle Brown, Burnt, Coyote, Ranger Green, Tundra, and Dark Navy-Blue.
12
LA Police Gear Men's Urban Ops Tactical Cargo Pants
La Police tactical cargo pants offer an option of 9 different colors and a wide range of sizes (30L*28W to 50W) to suit your choice. These are the best combat trousers for law enforcement as well as other tactical users.
These tactical pants are made from 65% Polyester and 35% Cotton rip-stop ultra-lightweight fabric that is breathable for maximum comfort.
The Urban Ops pants have an elastic waistband that is stretchable and flexible to allow a comfortable fit around your waist. Articulating knees together with a gusseted crotch provide extra comfort during movement and maintain durability around the area most exposed to wear and tear.
The LA Police cargo pants provide adequate storage for tactical equipment giving you an easy time moving around in combat.
They have a single front slip pocket, slip back pockets and additional front pockets to provide enough space for the accommodation of a phone, flashlight, knife, and other tactical gear.
A slanted cargo pocket flaps allow easy access even when seated. The pants have 6 belt loops to accommodate most belts of up to 2 inches.
Conclusion
Whether you are a law enforcement personnel or an avid lover of outdoor adventures, the best combat trousers provide you with the comfort and protection you need in your activities.
They are specially designed to ensure your necessities are kept secure as you transverse through rough terrains and bad weather.
The pants we have discussed above also feature special features such as knee reinforcements, to ensure your safety at all times.